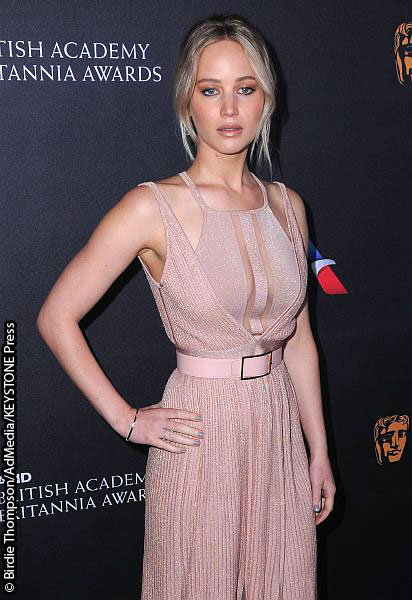 Jennifer Lawrence has never been one to shy away from some good ol' fashioned gross-out humor, but her latest interview definitely takes the (sponge) cake.
The Hunger Games actress, who graces the cover of Vanity Fair's annual Holiday 2016 issue, sat down with the publication to answer a fast 128-second quiz about herself and her many well-documented quirks.
When asked what she would be doing if she weren't acting, Jennifer, without hesitation, replied, "Lying in a ditch," and then added with her signature cackle, "Stripping."
Continuing on with a question about her Passengers co-star Chris Pratt (she "hates" Guardians of the Galaxy), to her go-to karaoke song (Blue Swede's "Hooked on a Feeling"), to her first R-rated film (What Lies Beneath), the actress injected her signature wit and no-holds-barred candor to the series of rapid-fire questions.
But when it came to what she's most afraid of, the Oscar winner went into pretty bizarre (and graphic) detail about a possible crotch-turning epidemic.
"My biggest irrational, hopefully, fear is that the Zika virus is going to be the solution to overpopulation," she said with wide eyes that betrayed genuine worry. "I don't know, if you've ever read the Kurt Vonnegut short story [Welcome to the Monkey House] where everyone has to take these pills that make your private parts feel like wet sponges and, then nobody can have sex and no one can procreate. And so by the time I'm older, and I'm like, 'I think I want to be a mother,' they're like, 'You can't. Your private part feels like a sponge.'"
Watch Jennifer's hilariously candid interview below, and tell us what you think about it in the comment section! ~Shelby Morton