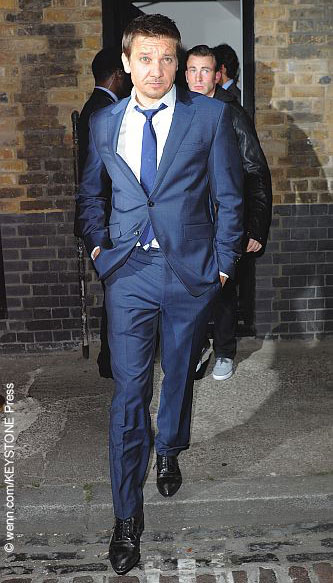 During a stay in Houston, Jeremy Renner crashed the wedding of a couple he didn't know. He was in the Texas city to make an appearance at Comicpalooza last Saturday when he found out a wedding reception was taking place at the Regency Hotel, where he was staying. TMZ reports that once inside the reception, Jeremy, who was clad in a grey shirt and black blazer, began taking advantage of the open bar.
A spy for TMZ reported that Jeremy was "kind of standoffish with most of the guests." After being recognized, he was asked if he would pose for a photo with the bride and groom, but refused. However, a cell phone photo taken by one of the guests shows the Avengers: Age of Ultron star smiling and leaning towards a woman in a gown whose back is to the camera, so it appears he was friendly to at least some of the guests.
TMZ got hold of Jeremy, who said he hid at the bar in an attempt to avoid upstaging the newlywed couple, adding, "I did enjoy conversations with many of the guests for about 15 minutes and went off to enjoy the sights of Houston for the night."
Jeremy can next be seen on the big screen July 31, 2015, when he reprises his role as William Brandt in Mission Impossible: Rogue Nation.