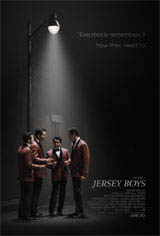 Jersey Boys, the newest film from director Clint Eastwood, tells the true-life story of Frankie Valli and the Four Seasons, a pop group who broke out of their hometown bubble to became an international sensation with a unique, brand-defining sound. But before it was a film, it was a Broadway musical that hit all the right notes, winning the Tony Award for Best Musical in 2006.
I'll never forget the first time I saw the staged version of Jersey Boys in Toronto. The theatrical experience felt fresh, funny, engaging, even cinematic. It seemed only fitting that such a well-told, but not very well known, story become a film. Since the show is strictly about the music, it escaped critics' usual knocks against jukebox musicals as attempts to capitalize on beloved songs and cram them into mismatched storylines like so many square pegs into a circular hole. (I'm looking at you, Rock of Ages.)
Now if you loved the Broadway counterpart, then you'll probably enjoy the film as well, which features all the same Four Seasons favorites, including Sherry, Walk Like A Man, Big Girls Don't Cry, Can't Take My Eyes Off of You and December, 1963 (Oh, What A Night). Of course, it's not surprising that Eastwood's adaption is so faithful to the original stage version. Original show writers Marshall Brickman and Rick Elice return as screenwriters, retaining much of the original musical's dialogue, direct address and wiseguy wit. But humor isn't all that's returning.
Rather than cast Hollywood actors to sing show tunes (I'm looking at you, Les Misérables), Eastwood opts to fill out the majority of his cast with performers from the original musical. Of the Four Seasons, three have onstage experience. Erich Bergen, Michael Lomenda and John Lloyd Young, who play frontman Frankie Valli, along with songwriter Bob Gaudio and arranger Nick Massi, respectively, bring their background in theater to the screen with refreshing confidence.
Christopher Walken plays the arbitrating gangster and real-life mob boss, Gyp Decarlo, who assists the Four Seasons with problems of a dubious nature. Walken is a devilishly charming pleasure to watch, a real scene-stealer, but that's probably because he's such an unusual choice for the character.
Vincent Piazza (HBO's Boardwalk Empire), plays the hot-headed fourth Season, Tommy DeVito. The film raises the interesting question of where the band would be without DeVito, which is a double-edged sword, since the Four Seasons owe both their success and their mounting financial debt to the controlling, self-appointed leader of the group. Much of the band's career is spent clearing DeVito's arrears. In the musical, Tommy DeVito is a loveable troublemaker, but in the film, Piazza comes across as a real villain, certainly not as charming or endearing as his theatrical counterpart.
Eastwood tells a straight-forward story and treats the film as a drama first, although there's a winking moment where the director has a cameo of sorts. The TV show that shot him to stardom – Rawhide – plays on a television screen in Valli's house, showcasing the squinty-eyed cowboy he was known to play.
The stage version works because every scene is engaging, whereas the film is very slow, especially in the early going. But I appreciate that Eastwood took his time to focus on the band members as delinquent youths and their run-ins with the law. These cheeky, Jersey-set scenes only support the rags-to-riches tale. Even when the band is established, they continue to squabble and rough-house like schoolyard boys. Reviews for the movie have been mixed – have you seen it? If you've seen both the film and the stage version, what did you think – did it translate well to the screen? ~Daniel Horowitz Sorry, there are no polls available at the moment.