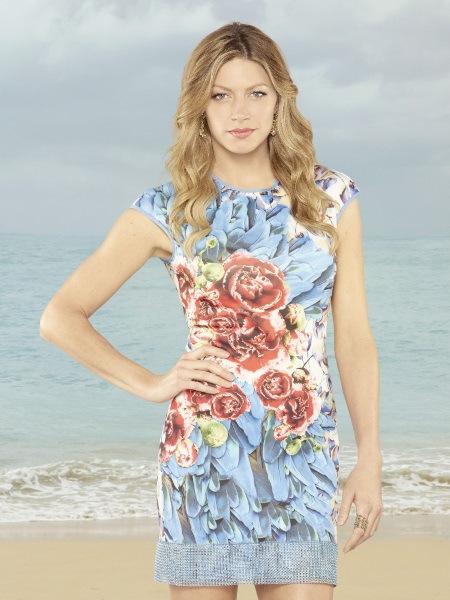 We chatted with Jes Macallan who stars as Joss on the hit ABC show Mistresses. If you have been following the show, you'd be just as anxious to know how the finale ends. We caught up with the actress who was more than happy to chat about the finale, her relationship with her co-stars and more! Mistresses finale airs Thursday, Sept. 3 at 9 p.m. ET/PT on CTV.
How similar are you to Joss?
Season to season it changed. There are definitely some similarities. As the season progresses, the character started to grow and the writers start to adjust the character to more of the way I speak. I think that just happens on certain TV shows that the [character] starts to morph closer to how the actual actor is. Since the writers are around them more. I love her big, free-spirit and she's got a big heart – all those things I definitely relate to. But she's certainly just a hot mess.
The relationship between Joss and Calista was shocking. Did you see that coming?
They told us a little bit as to how those characters are going to progress. We knew a little bit that it was a match made in heaven until it wasn't. It wasn't shocking but once the murder happened and the prison stuff was very shocking. And by the end it got really very dark. I like the way the writers choose love more than hate. These characters have a lot of love for each other. The stakes were so much higher when everything fell apart.
What did you love best about season 3?
I love the prison stuff! It was such a different season for me. The prison stuff became such a different show for me. There were days when I would leave work and I'd be like, 'What show am I on.' That was really, really fun.
Do you have a similar dynamic with these co-stars in your life?
Yeah, I don't know about same dynamic as we have onscreen but the question is are we friends? Absolutely! Rochelle is just one of the loveliest human beings. When she's in L.A., we try to do a Pilates or a dance class or something. We always try to get together. I really enjoy her company. Yunjin is the same. It's just she lives in Korea so it's harder. Jennifer we just met this season so that was one season of working together. Brett's a great guy too. We all have a great chemistry luckily! I think a lot of the cast say that and they lie about it. (Laughs) More often than not. But we really do enjoy each other.
What can you tell us about the finale?
Nothing other than buckle up! A lot of things will be resolved. Certain characters will get a proper finale and certain characters are going to be left in a shocking sort of state. It's interesting because if we didn't get a season four to leave the characters in this crazy state, viewers are going to be a little p***** if that's what happens. Certainly not an ending to the season!
Do we get a Joss/Harry reunion?
Yeah, it's certainly inevitable. They keep trying. Nothing really matters with the prison stuff. In tragedy people come together and he has been there for Joss fighting her fight. Of course, I think they are going to have a go at it. They try!
Are you looking forward to season 4?
Of course! I'm always happy for work and feel absolutely lucky to be on something that has continued for a couple of seasons. We don't know yet about another season; I would be very thankful!
What's next for you?
I'm taking a good old fashion break. I'm looking for the next thing and reading the next thing that comes my way.
Thanks so much, Jes for the chat.
It was so lovely to talk to you!
~Marriska Fernandes