Jessica Chastain delivers cutthroat performance in Miss Sloane
By Marriska Fernandes on December 9, 2016 | 2 Comments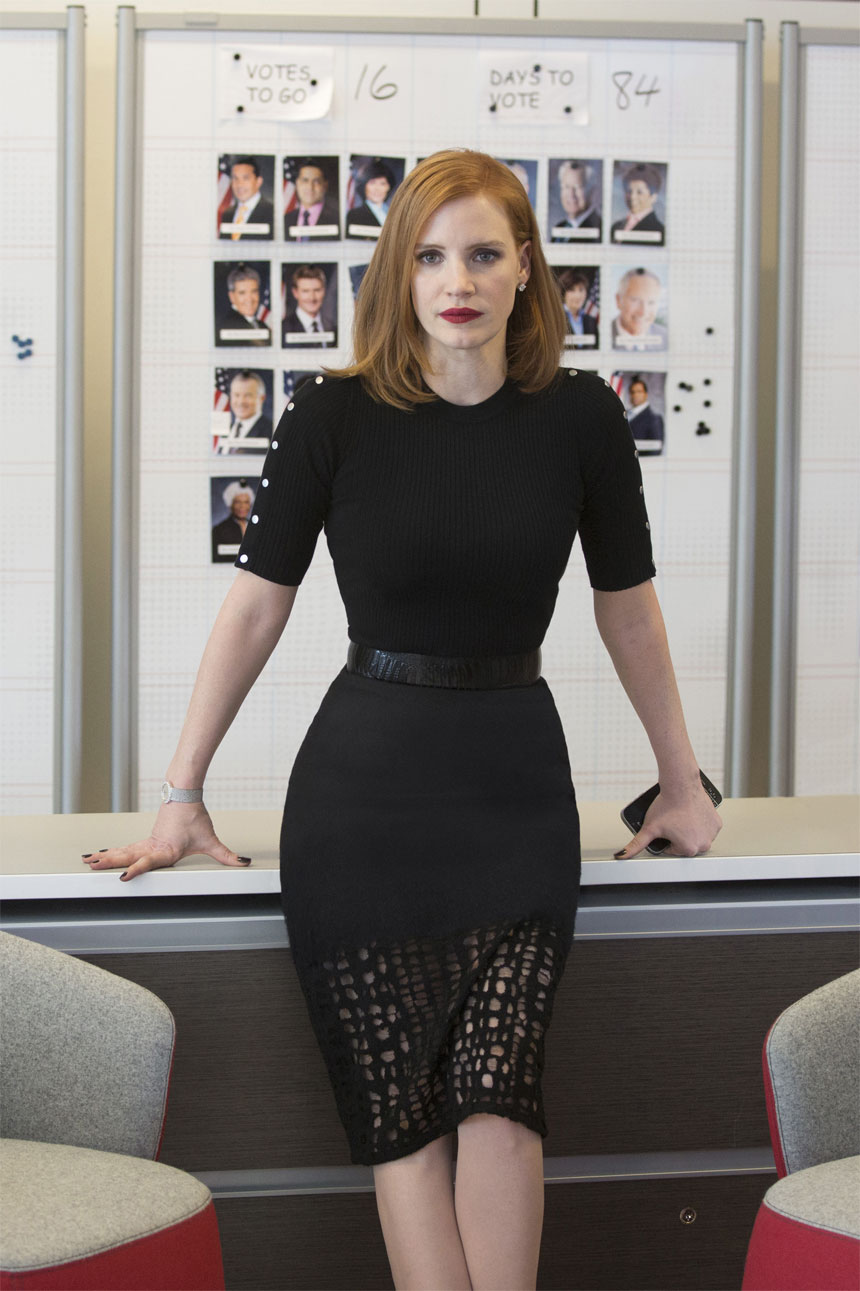 When it comes to fierce, bad-ass women, I'd say Jessica Chastain takes the crown this year for her portrayal of the titular character in Miss Sloane.
Elizabeth Sloane views people as collateral damage and she believes in the good of the many over the good of the few. She is callous, unsympathetic and lacks any intimacy in her life. She's a character you will hate and still silently root for – Jessica's compelling performance simply demands it.
The film opens with a monologue from Sloane. "Lobbying is about foresight, about anticipating your opponent's moves and devising counter measures. I was hired to win and I have used whatever resource I've had." In the opening scene, she is seen sitting before the Senate subcommittee while being accused of questionable ethical practices. She pleads the fifth, until she is no longer able to hold her cool and faces charges of contempt.
The scene then takes you back a few months when Elizabeth Sloane was the most feared lobbyist in Washington D.C. With designer heels, perfectly applied red lipstick and not a single strand of hair out of place, Sloane walks around like she owns the place. Talking just as fast as she is typing into her phone, she stops for no one.
When the head of the gun lobby approaches the company she works for to get women interested in guns, she outright laughs at them. When she realizes how serious they are, she calls a meeting and announces she's leaving for another firm that supports gun regulation.
She takes five of the staff members, but her trusted assistant, played by Alison Pill, feels obliged to stay and with that Sloane walks out with her entourage to fight the firm she is leaving behind. She joins Mark Strong, her new boss, and his employees, including Gugu Mbatha-Raw, as they prepare their game plan.
And thus begins the game of politics as each party plays their move and using any means necessary, Sloane charges forward with a chilling demeanor that lands her before the Senate a few months later. The film moves at a fast pace and along the way, the twists and turns are just what you didn't see coming.
You'd think that Sloane has a moral compass behind the cold and calculating demeanor as she fights for gun control regulation, but we constantly question her fierce tenacity — is it for the issue or her desire to win?
When Mark Strong tells her to quit at one point, she replies, "And what would I do?" This simple response makes you realize that she truly believes this is all she is capable of – winning. As the movie strips away her chilly layers with her empty life and lack of intimacy and relationships, we start sympathizing with her.
Jessica Chastain gives a brilliant, applaud-worthy performance as she pushes the envelope with this character. This role was clearly meant for Jessica as I can't imagine any other actress walking in those red-sole shoes. Her work in this film reminded me of her ferociousness in Zero Dark Thirty, which earned her an Oscar nomination — her compelling and driven performance in Miss Sloane deserves an Oscar. The role was well-written and regardless of the gender, it's a character that will be loved and feared at the same time.
For her part, Gugu provided the softer side of the female characters in the film. Esme Manucharian (Gugu Mbatha-Raw) was in every way different from Elizabeth. She was strong, sympathetic and provides a perfect balance between the female characters. Director John Madden has created a masterpiece.
This is one of my favorite films this year. The political thriller keeps you entertained with numerous twists and turns – almost an Aaron Sorkin kind of film. Helmed with fantastic performances, the well-written plot is crisp, fresh and gives a glimpse of life on Capitol Hill.
Click here to see our red carpet interviews with Jessica Chastain, John Madden, Raol Bhaneja and Grace Lynn Kung. If you have seen Miss Sloane and would like to review it, click here.
~Marriska Fernandes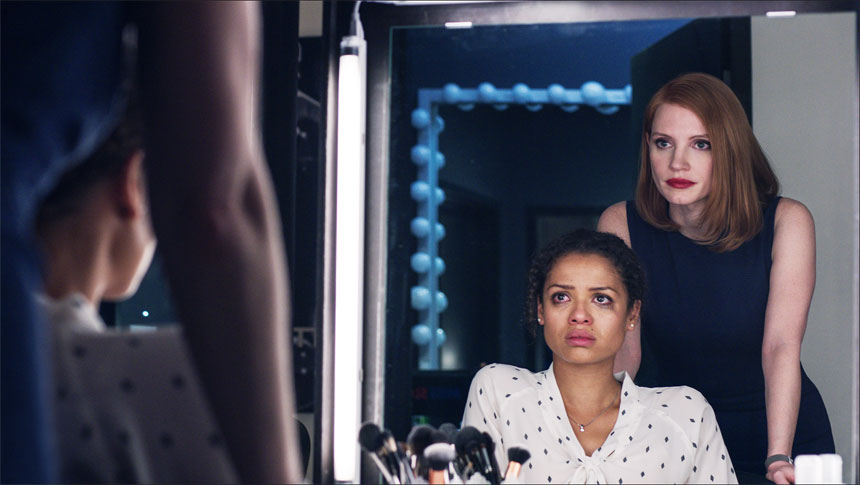 ---
---
---
---
Similar Articles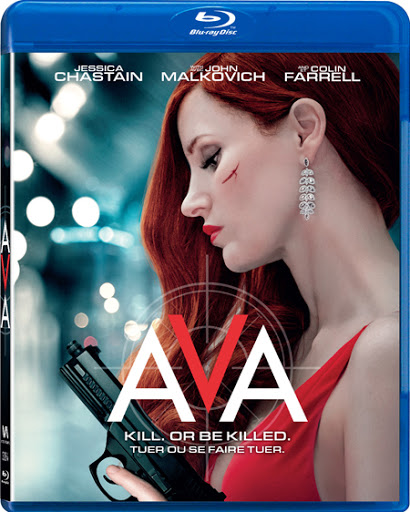 August 25, 2020 | Leave a Comment
Check out this week's assortment of DVDs, Blu-rays and more for your home entertainment enjoyment, including Jessica Chastain as an assassin on the run in Ava.
---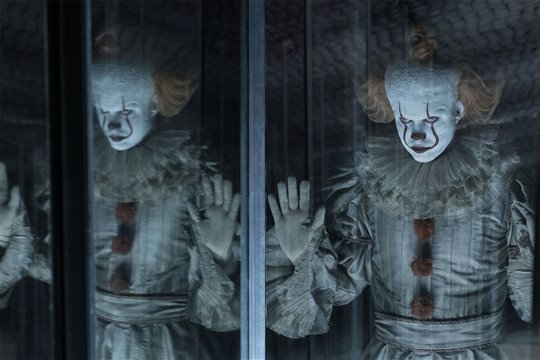 September 5, 2019 | 1 Comment
Pennywise, the devilish clown from Stephen King's novel returns to haunt in IT: Chapter Two, and this time he's even more menacing than in the first film.
---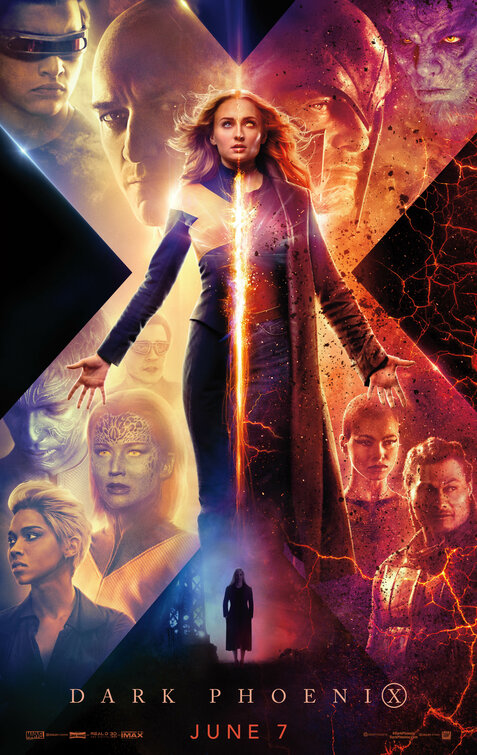 June 5, 2019 | 1 Comment
It's the end of an era in comic book films as Fox's X-Men franchise comes to a somber close with the 12th entry, Dark Phoenix, from director Simon Kinberg.
---