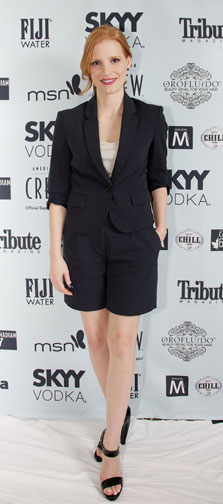 Following her win at the 2015 Critics' Choice Awards, actress Jessica Chastain addressed a much-talked about issue surrounding award season: diversity – or in this case, lack of diversity, which is especially significant now due to the controversy regarding the upcoming Oscars.
"Today is Martin Luther King Jr.'s birthday," the MVP award-winner said. "So, it got me thinking about our need to build the strength of diversity in our industry."
Jessica's speech was met with applause and even had Oprah Winfrey mouthing the word "Wow" as she pleaded that we should "stand together against homophobic, sexist, misogynistic, anti-Semitic and racist agendas."
However, while Jessica has support from many in the industry who share her sentiments, public reaction hasn't been as positive. Although her speech has had mostly positive feedback on social media, there has also been an overwhelming backlash which Jessica calls "strange."
"I've had really terrible people who are racists comment on the speech and say really terrible things," she said. "I'm understanding that some people in this world, how much hate they can have."
Some also thought her speech was only about diversity specifically at awards shows. Jessica clarified her speech wasn't about awards, but how awards are a reflection of the industry and if there were more diversity in films, it would be reflected in the nominees. She vowed to continue to speak out in the future and remains an optimist.
"I can't help but feel hopeful about the future of film — especially looking at all these beautiful people in this room," she told the crowd at the ceremony. "Martin Luther King, Jr. said, 'Our lives begin to end the day we become silent about things that matter.' And I would like to encourage everyone in this room to please speak up." ~Sandra D. Sukraj