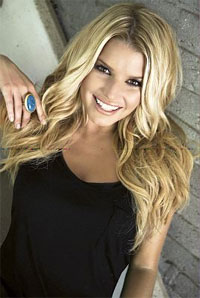 Rumor has it that, after many failed attempts at a movie career, Jessica Simpson is returning to the medium that made her famous: reality TV.
Simpson is reportedly in talks with TV networks to pitch a reality series about society's scrutiny of women's bodies. It comes as no surprise since Simpson has been under scrutiny in the past year about her own weight issues and her wardrobe choices during her concert performances while promoting her country album.
Apparently the reality program will follow Simpson and a friend as they set off on a road trip around the world in search of what people find beautiful and why. Rumor has that Simpson will even go as far as to try the shocking things women do to make themselves look beautiful.
The singer's rep recently said, "Jessica is indeed working on a new show, but network details have not been finalized at this time." Will you watch?