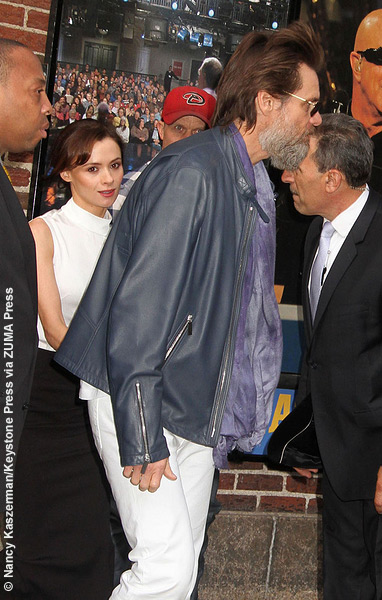 The news surrounding the suspected suicide of  Cathriona White, Jim Carrey's late girlfriend, has gotten stranger and sadder. Apparently she was married while dating Carrey, but the marriage doesn't seem to have lasted long.
Cathriona began dating Carrey in September 2012 after meeting him on a film set, and they reportedly dated for several months, but by January 15, 2013, Cathriona married a man named Mark Damian Burton at the Heavenly Bliss Wedding Chapel in Las Vegas, according to a marriage licence obtained by Us Weekly. They were still married at the time of her death and he is her legal next of kin.
Burton, 38, works in the entertainment industry as a cameraman and it's believed he and Cathriona worked on several projects together. Although it's not clear when she and Burton separated, Cathriona, who turned 30 just two weeks before her death, was seeing Carrey again in May 2015, as evidenced by the photo seen here.
The Los Angeles Medical Examiner's Office confirmed that four prescription bottles and a note addressed to Carrey were found alongside Cathriona's body and none of the bottles had Cathriona's name on them – three had an alias attributed to Jim Carrey.
The website usmagazine.com quotes the coroner as saying: "There were four bottles found, three of them with a name on it and they weren't hers. We confirmed with the pharmacy it was an alias [for Carrey]… The prescriptions found were Ambien, Percocet, Propranolol and Zofran. [They were all in the name of Jim's alias] except for the Zofran, there was no name on the [Zofran] bottle."
A source told people.com Carrey didn't know Cathriona had the pills, claiming, "She took them from his house. He had no idea. He wasn't actively using them and therefore had no idea they were even missing."