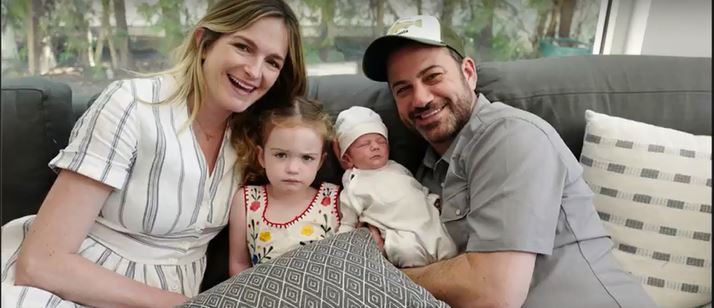 Jimmy Kimmel, comedian and host of Jimmy Kimmel Live, had an emotional moment in his show's opening monologue last night (May 1).
The host was brought to tears as he announced that his wife, Molly McNearney, with whom he has a two-year-old daughter named Jane, had given birth to a son, William "Billy." He subsequently revealed the newborn was born with heart disease and had to undergo immediate open-heart surgery.
William was born on April 21st and a nurse at the hospital noticed right away that the infant was purple. It was determined that the child was born with a heart defect. He underwent open-heart surgery three days later at Children's Hospital Los Angeles. Jimmy explained that William will require two additional procedures performed on his heart later in his life.
Jimmy went on to say: "Six days after open heart surgery, we got to bring him home, which was amazing… He's doing great. He's eating, he's sleeping. He peed on his mother today while she was changing his diaper. He's doing all the things that he's supposed to do."
The host thanked the doctors, nurses and staff at Cedars Sinai Medical Center and Children's Hospital Los Angeles who took care of his wife and son and asked viewers to consider donating to Children's Hospital Los Angeles. He also addressed the issue of health care reform currently taking place within the U.S. government.
Jimmy will be on paternity leave the rest of the week and has enlisted the help of friends Will Arnett and Kristen Bell to fill in on his show during that time.
You can watch Jimmy's emotional monologue below. ~Alexa Caruso
*Image courtesy of Youtube.com/JimmyKimmelLive