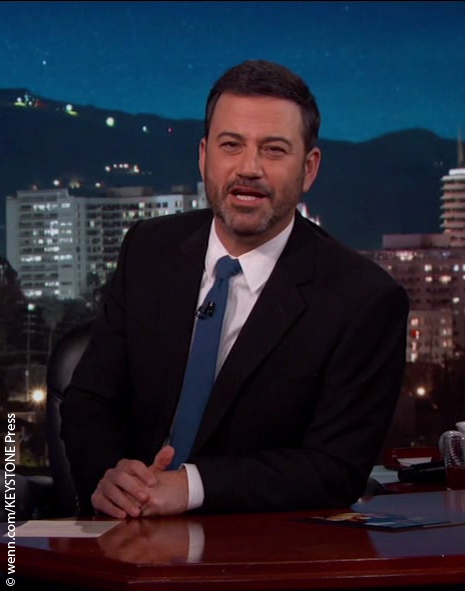 The awards season is heating up with each passing day, and this week the stage is beginning to set for the 2017 Oscars with the announcement of Jimmy Kimmel as host.
The 49-year-old late night host will take to the podium for the first time in February, following in the footsteps of last year's host Chris Rock.
Although Jimmy hasn't cozied up to the golden statuette before, he did host the 2012 and 2016 Emmys, as well as the 2007 and 2008 American Music Awards.
News that he would play host to the 89th annual Oscars was confirmed by the Academy of Motion Picture Arts and Sciences via Variety. Jimmy later tweeted out the news himself, which you can check out below.
Past Oscar hosts include Neil Patrick Harris, Whoopi Goldberg, Ellen DeGeneres and Seth MacFarlane.
The 2017 Oscars will take place in Los Angeles on Feb. 26. Nominations will be revealed Tuesday, Jan. 24.
In addition to officially being slated to host the show, Jimmy shared that he and his wife Molly McNearney — the co-head writer on his program — are expecting their second child.
During Monday's Jimmy Kimmel Live!, he said, "My wife is hosting a baby inside her body, so that's exciting. We got the ultrasound, which is weird because you're already spying on the baby — but we asked the technician not to tell us whether we're having a boy or a girl. Our plan is to let the child decide for itself."
Jimmy and Molly's first child is two-year-old Jane. He also has a son and daughter from a previous marriage.
What do you think of the decision to book Jimmy as host for the Oscars? Brilliant or boring? Share your thoughts with us! ~Matthew Pariselli
Yes, I am hosting the Oscars. This is not a prank. And if it is, my revenge on @TheAcademy will be terrible & sweet. Thx to @alsformalwear

— Jimmy Kimmel (@jimmykimmel) 5 December 2016