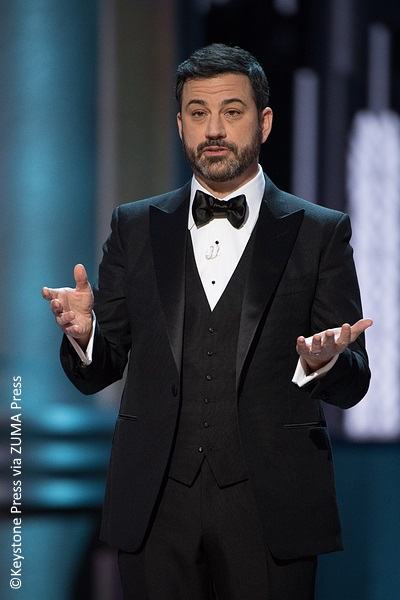 The Academy has announced that talk show host Jimmy Kimmel will return to host the awards show in 2018.
If you watched the Oscars this year, you may remember the big scandal involving the mix-up for the Best Picture award winner. When the announcement that he would host again was made official, Kimmel claimed it's the "highlight of his career."
"If you think we screwed up the ending this year, wait until you see what we have planned for the 90th anniversary show," Kimmel joked.
Moonlight ended up being awarded the best picture at the Oscars, after La La Land was handed the award in error by presenters Warren Beatty and Faye Dunaway, who were given the wrong card to read.
Overall, the host was praised for his work during the ceremony, despite the confusing mix-up at the end. Producers Michael De Luca and Jennifer Todd will also return for next year's show.
"Jimmy, Mike and Jennifer are truly an Oscar Dream Team," Academy president Cheryl Boone Isaacs said in a statement. "Mike and Jennifer produced a beautiful show that was visually stunning. And Jimmy proved, from his opening monologue all the way through a finale we could never have imagined, that he is one our finest hosts in Oscar history."
Although the host generally got positive reviews, the ratings were down four percent from the prior year, as the ceremony only attracted 32.9 million viewers.
The 90th Academy Awards ceremony will air Sunday, March 4, 2018.
Thanks to @TheAcademy for asking me to host The #Oscars again (assuming I opened the right envelope)

— Jimmy Kimmel (@jimmykimmel) May 16, 2017