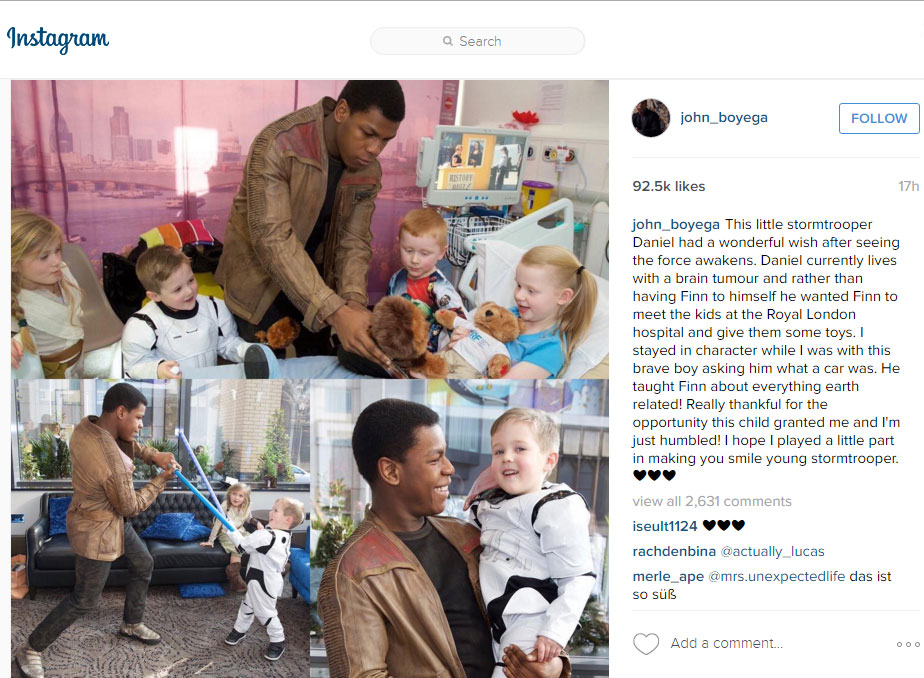 The children at The Royal London Hospital got a taste of the Force when Star Wars: The Force Awakens actor John Boyega arrived with gifts in tow.
Last Friday, John stepped into his Finn costume (and didn't break role) as he spent the day with kids of the hospital on behalf of the Rays of Sunshine children's charity.
John wasn't the only surprise guest, though. He was joined by a young girl dressed as Rey, and a helpful stormtrooper by the name of Daniel Bell.
Daniel is a five-year-old boy who has been diagnosed with a brain tumor. It was his wish to meet John's Star Wars character, Finn, and accompany him on his rounds delivering toys.
According to the Belfast Telegraph, John sprang into action when he learned of Daniel's dream.
"When I heard about Daniel's wish to meet Finn, I jumped at the chance to make it come true. It was fantastic to be a part of his very special wish with Rays of Sunshine."
He added, "It was also great to meet the children at The Royal London Hospital and be a part of something so positive."
John was thanked by Bell's mother Rosalind, who took to Facebook over the weekend to express her appreciation.
She wrote, "Thank you so so much Rays of Sunshine and John Boyega for granting Daniel's wish to meet Finn and take toys to the hospital. It was just amazing, I have no words! Daniel is still totally overwhelmed, I have never seen him so happy."
To commemorate the day, John posted the above photos to Instagram. ~Matthew Pariselli