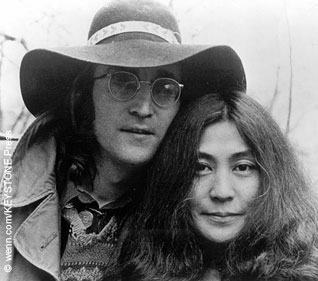 Beatles fans, come together right now (over this)! A film chronicling the high-profile relationship and anti-war efforts of John Lennon and Yoko Ono is in the works.
According to the Hollywood Reporter, a currently untitled project about the icons is being developed by producer Michael De Luca, Yoko, writer Anthony McCarten and Immersive Pictures' Josh Bratman.
In a statement released yesterday, De Luca said, "The story will focus on ripe and relevant themes of love, courage and activism in the U.S. — with the intention of inspiring today's youth to stand up for and have a clear vision of the world they want. I am also honored and privileged to be working with Yoko Ono, Anthony McCarten and Josh Bratman…"
De Luca is a big-time producer behind awards-friendly films such as Captain Phillips, Moneyball and The Social Network. His upcoming job is co-producing this year's Oscars telecast (Feb. 26).
As for McCarten, his most notable work to date is The Theory of Everything. He penned the screenplay for the 2014 drama and was recognized with an Academy Award nomination. His next project is the Winston Churchill biopic Darkest Hour, which stars Gary Oldman and releases Nov. 24.
What do you think about a John Lennon-Yoko Ono film? Should filmmakers just "let it be" or are you twisting and shouting in excitement? ~Matthew Pariselli