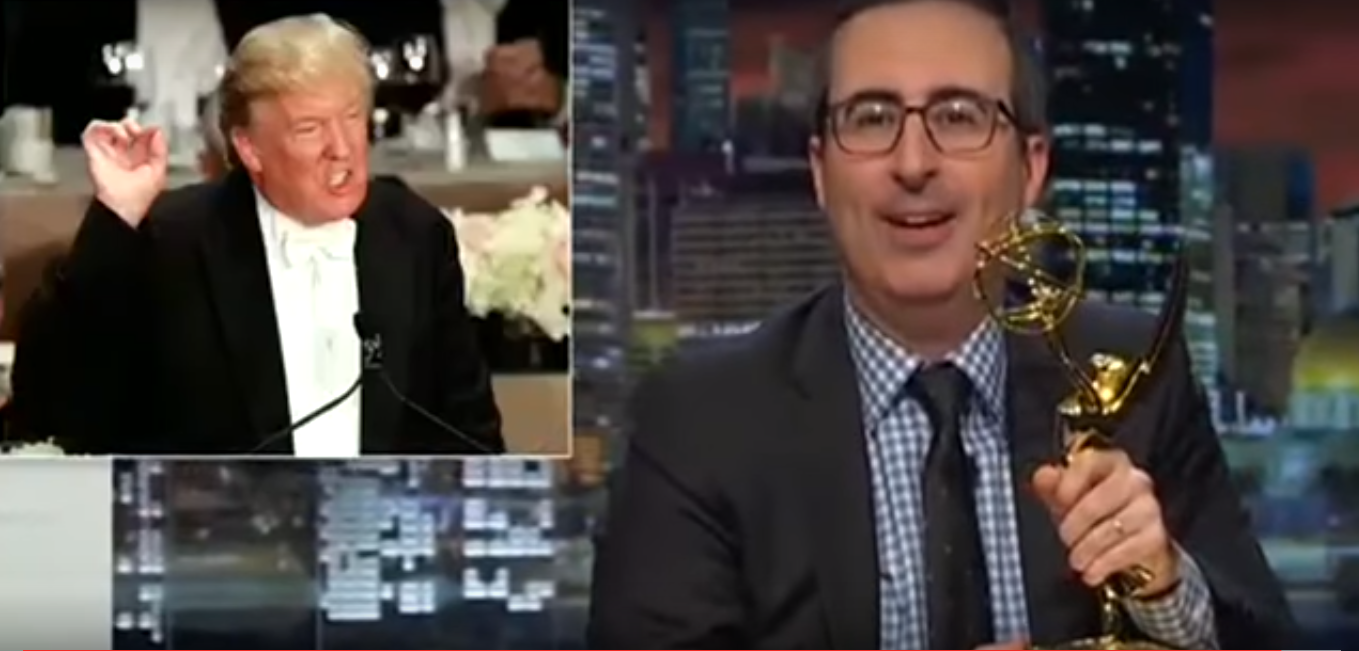 Donald Trump's victory over Hillary Clinton for the title of POTUS is far from certain. The race is tight and there's no telling who'll clinch the win. But if the Republican nominee accepts John Oliver's latest offer, he'll get something else he's had his eye on for years: an Emmy.
During Sunday night's episode of Last Week Tonight, John promised Donald, 70, one of his Emmys in exchange for Donald's word that he'll accept the November 8 election results.
John referenced one of Donald's highly controversial statements from the third presidential debate last week, where the real estate mogul said he would hold the U.S. "in suspense" over the results should he lose.
The late-night TV personality said, "What do you mean, 'You'll keep us in suspense?' This is a presidential election, not an American Idol results show!"
John then played on one of Hillary's points from the debate. The Democratic nominee discussed the systems Donald believes are "rigged," including the current election. She also addressed his campaign against the Television Academy for never awarding him an Emmy for The Apprentice.
John joked, "Of course he wants an Emmy. It's a woman, it's gold, and it's proportionate to his tiny hands. It's basically Trump's ideal mate."
He added, "Here's the problem here: It increasingly seems like if Donald Trump loses, we are not going to get the concession speech that the country badly needs, because he is medically incapable of accepting that he is a loser."
John's solution?
"I think I might have the answer here, because I have a proposition for Donald Trump: Let's bet on the outcome of this election. I will take the side that you win, you take the side that you lose. That way, if you lose, you still win. As for the stakes of the bet, I have something I know that you want."
He then pulled out one of his five Emmys and raised it to cheers from the crowd. Making a reference to Donald's remarks about Nancy O'Dell during a 2005 video, John said, "You don't even have to take her furniture shopping!"
John concluded, "Take the bet, Donald. Take the f***ing bet."
Fast-forward to 3:25 in the video below to see John announce his offer.
What do you make of John's proposition? Do you think Donald will accept the results of the election if Hillary trumps him in votes? Share your thoughts with us!