John Wayne's Way remembers the Duke – Book review
By Tribute on December 18, 2014 | 3 Comments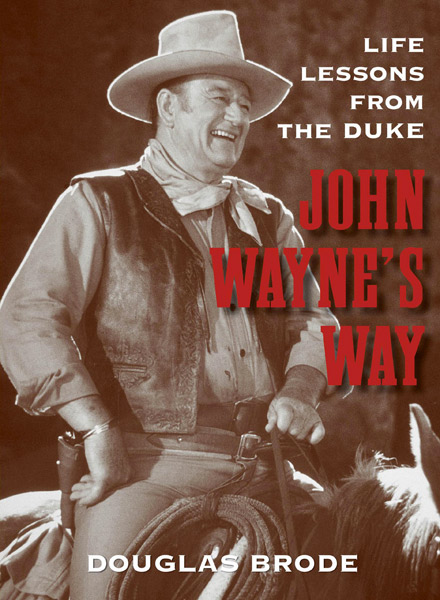 Few acting personas have cemented their place in pop culture the way that John "The Duke" Wayne's has. From his origins in The Big Trail to his most famous roles in True Grit and The Man Who Shot Liberty Vance, the Duke has created a lasting legacy of Western film tradition. In his new book John Wayne's Way: Life Lessons from The Duke, Douglas Brode has taken on the immense task of looking at every John Wayne film to garner some of the memorable lessons we can take from the Duke.
On each page is a short history and description of a John Wayne film, as well as a short summary of the message fans can take away from the film. Some memorable messages include The Man Who Shot Liberty Vance: "We do need to believe in heroes, even if, truth be told, they are never quite able to live up to their expectations." The Dawn Rider: "Even if you're hurting, don't let the other guy know it, and you'll beat him yet." And Track of the Cat: "The only man who need fear his death is the one who knows, deep inside, that he has not lived his life as he ought to have."
The book also includes an eye-opening introduction that details a story told by the Duke's co-star Maureen O'Hare. She described how on a drive one night, he stopped on the side of a suburban street, knocked on a stranger's door and promptly invited himself in for a drink. He was courteous and sincere as he asked to talk about their lives and their interests, knowing that his success came from the support of his loyal fans.
Brode successfully makes you want to know more about the Duke with his introduction, giving insight into a man who lived honestly and openly. John Wayne's Way: Life Lessons from The Duke is currently available in bookstores and is part of Day 24 prize pack during our 25 Days of Christmas giveaway. ~Kelly Townsend
---
---
---
---