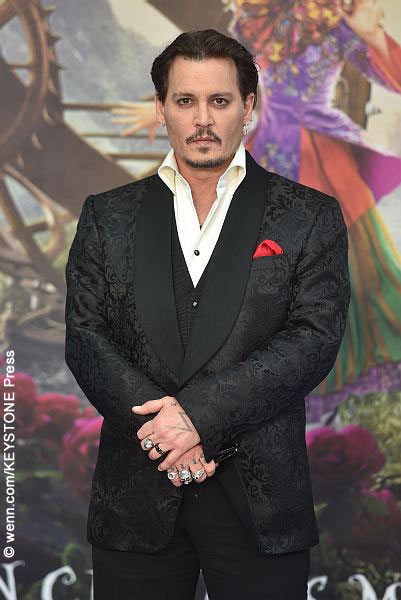 Johnny Depp portrayed Presidential hopeful Donald Trump superbly in a Funny or Die spoof released in February, but the possibility of the Republican winning the election is no joke to the actor.
During an interview with Channel 5 News in London, Johnny said, "If Trump is elected President of the United States, in a historical way it's exciting because we will see the actual last President of the United States. It just won't work after that."
In a March 2015 interview, Johnny discussed his role in the Funny or Die parody film called Donald Trump's Art of the Deal: The Movie, which has just been submitted for Emmy consideration. He was candid about his views on the real estate mogul and said, "There's something created about him in the sense of bullydom. But what he is, I believe, is a brat."
The 52-year-old star joins the ranks of several celebrities who have vocalized their opposition to Trump. The list includes Kerry Washington, Lena Dunham, Jane Fonda, Dylan McDermott and Trump's long-time nemesis, Rosie O'Donnell.
Johnny is making news today as well for a very different, and entirely fantastic, reason.
In an effort to promote the upcoming Disney film Alice Through the Looking Glass, which features Johnny as the delightful Mad Hatter, he pleasantly surprised visitors to California's Disneyland theme park.
Dressed in full Mad Hatter attire, from costume to brilliant makeup, he engaged with eager passersby through an interactive billboard equipped with a hidden camera.
As the quirky character, he waved, winked, and chatted up those brave enough to approach the billboard.
At one point, he asks to fit a young girl for a hat, telling her that she has a "wonderful cranium." At another moment, he sneezes and a flurry of bubbles fittingly descends over the crowd.
Alice Through the Looking Glass, which is Tim Burton's sequel to 2010's Alice in Wonderland, costars Mia Wasikowska and Helena Bonham Carter. It hits theaters on May 27.
Check out the video below for Johnny's enchanting interactions with Disneyland visitors. ~Matthew Pariselli