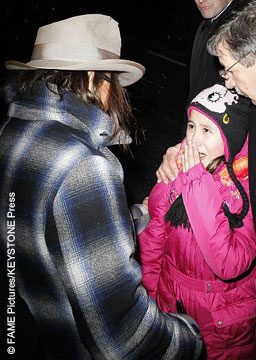 Johnny Depp, who's usually very gracious with the paparazzi, got angry when they shoved a young fan to get a better shot. Depp was in NYC this week making an appearance to promote his new movie, The Tourist, on Late Show with David Letterman when he was mobbed outside the building where the show is taped. A little girl began crying when she was shoved out of the way, but Johnny made his way through the crowd to put a protective arm around her. He chewed out the photographers and after making sure the girl was all right, Depp, who has an 11-year-old daughter, posed for a photograph with her. Once everything was smoothed out, he went back to signing autographs for the other fans and posing for pictures for both fans and paparazzi alike.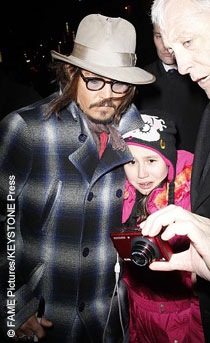 This wasn't the first time Johnny went out of his way to make a young fan feel special. Earlier this year, in response to a British fan's letter, he showed up at her school in character as Captain Jack Sparrow.
In 2008, when Public Enemies was completed, Depp sent the fedora he wore in the movie to a 12-year-old fan who'd admired it, as well as gifts for the boy's four siblings. That same year, he made a voice recording for a girl in a coma at the request of her parents — after she heard his voice, she moved her leg.
Finally, Autograph magazine routinely lists him as the best celebrity for signing autographs, because he "likes to talk to fans and get to know them while signing." ~Alexandra Heilbron