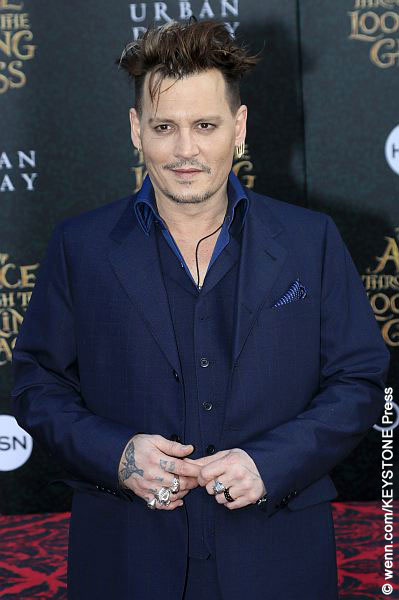 In yet another development in the already ugly Johnny Depp–Amber Heard debacle, one of Johnny's friends has come forth and painted a drastically different picture.
Stand-up comedian Doug Stanhope asserts that he has known Johnny for a few years and is part of the 52-year-old actor's inner circle. Apparently struggling with feelings of guilt for not having spoken out sooner, Doug penned an open letter that was posted on The Wrap.
Doug begins by explaining, "It's almost 4 a.m. and I can't sleep. Not even dozing off. Today, a friend of mine was pilloried in the press for domestic violence. Coupled with a picture of his wife with a bruise, he was murdered on social media. I watched it happen and I didn't say a f—ing word. Even though I knew it was bulls—."
He then transitions into discussing Amber's actions and why he and his girlfriend Bingo remained silent.
"We'd watched it build like this since before they were married. We'd watched her manipulate and f— with him for years. We didn't say a word. To each other, yes, but never to him. When your friend is in an awful, abusive relationship — man or woman — and you risk weighing in that their counterpart is a demon, you know the odds are they will jump right back into the fire and then dump you from their life for being honest."
He continues, "We have watched Amber Heard f— with him at his weakest — or watched him at his weakest from being f—ed with — for the entire time we've known him. And we didn't say s—. Because he's Johnny Depp."
Doug then dives into the alleged assault.
"Bingo and I were at Johnny's house for most of that Saturday until just before the alleged assault. We assumed initially that his dour mood was because of his mother's death the day before. But he opened up in the most vulnerable of ways that it was not only his mother, but that Amber was now going to leave him, threatening to lie about him publicly in any and every possible duplicitous way if he didn't agree to her terms. Blackmail is what I would imagine other people might put it, including the manner in which he is now being vilified."
He carries on, eventually finishing by stating, "Johnny Depp got used, manipulated, set up and made to look like an a–hole. And he saw it coming and didn't or couldn't do anything to stop it."
Amber Heard's attorney has since responded to the letter, calling the accusations that Amber was blackmailing Johnny "unequivocally false."
How do you think this new perspective changes the dynamic of the situation? Share your thoughts with us.
~Matthew Pariselli