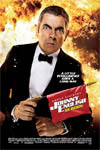 Rowan Atkinson returns to the role of the accidental secret agent who doesn't know fear or danger in the comedy spy-thriller Johnny English Reborn.  In his latest adventure, the most unlikely intelligence officer in Her Majesty's Secret Service must stop a group of international assassins before they eliminate a world leader and cause global chaos.
In this Canadian exclusive, the cast and crew of Johnny English Reborn talk about working with Rowan Atkinson, and Rowan describes the challenge he faced this time around.
Johnny English Reborn opens October 28.