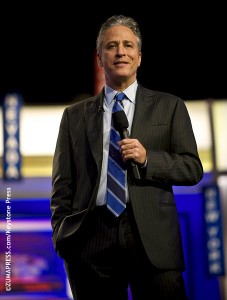 Comedian Jon Stewart announced yesterday that he is stepping down as host of The Daily Show.

Jon, who has hosted the Comedy Central series since 1999, made the announcement to a shocked audience during a taping in New York.
Fighting back tears, Jon told the crowd, "Seventeen years is the longest I have ever in my life held a job by 16 years and five months," he said. "In my heart I know it is time for someone else to have that opportunity."
He said he had no specific plans at the moment. "Got a lot of ideas. I got a lot of things in my head. I'm going to have dinner on a school night with my family, who I have heard from multiple sources are lovely people," Jon said.
Michele Ganeless, president of Comedy Central, released a statement following the announcement.
"For the better part of the last two decades, I have had the incredible honor and privilege of working with Jon Stewart. His comedic brilliance is second to none. Jon has been at the heart of Comedy Central, championing and nurturing the best talent in the industry, in front of and behind the camera," she said.
"Through his unique voice and vision, The Daily Show has become a cultural touchstone for millions of fans and an unparalleled platform for political comedy that will endure for years to come. Jon will remain at the helm of The Daily Show until later this year. He is a comic genius, generous with his time and talent, and will always be a part of the Comedy Central family."
Jon took over the show 16 years ago from original host Craig Kilborn. With Jon behind the desk, the show gained popularity and became known for its political satire and humorous discussion of current events.
The Daily Show is currently the second longest-running program on Comedy Central (South Park is the first). It has won a total of 18 Emmy awards with Jon as host. The comedy series also won two Peabody Awards for its coverage of the 2000 and 2004 presidential elections.
Jon is expected to stay on until the end of the year, when his contract expires. This announcement comes less than two months after former Daily Show correspondent Stephen Colbert  left his own Comedy Central show The Colbert Report, to take David Letterman's place on CBS' The Late Show. ~Suzanne Coolen