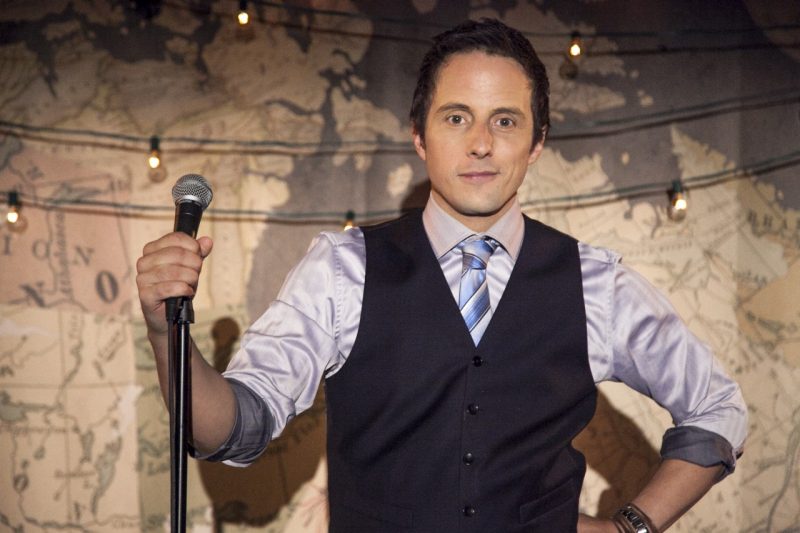 This is Canadian Screen Week, leading up to the Broadcast Gala on Sunday, March 12, which will be broadcast live on CBC beginning at 8 p.m. (9 AT/9:30 NT).
Last night, the Canadian Screen Award winners for Non-Fiction Programming were announced during a ceremony hosted by Arisa Cox at The Westin Harbour Castle in Toronto.
Jonny Harris (pictured above), the host of Still Standing and one of the stars of the popular CBC series Murdoch Mysteries, won two awards for Still Standing, including Best Host, while Still Standing also won for Best Factual Program of Series. ~Alexandra Heilbron
Full list of winners:
Best Reality / Competition Program or Series: The Amazing Race Canada
Best Biography or Arts Documentary Program or Series: Hip-Hop Evolution
Best Children's or Youth Non-Fiction Program or Series: Science Max: Experiments at Large
Best Documentary Program: My Millennial Life
Best Factual Program or Series: Still Standing
Best History Documentary Program or Series: War Story: Afghanistan
Best Lifestyle Program or Series: You Gotta Eat Here!
Best Live Entertainment Special: The Tragically Hip – A National Celebration
Best Live Sports Event: Rio 2016
Best Local Newscast: CBC News: Here & Now
Best Music Program or Series: The JUNO Awards 2016
Best National Newscast: CBC News: The National
Best News or Information Program: W5: Healing Hands
Best News or Information Segment: CBC News: The National "Catching up with the Farwans"
Best News or Information Series: Daily Planet
Best News Special: Fort McMurray Wildfire Evacuation
Best Reportage, Local: Global BC – Missing Plane Found
Best Reportage, National: CBC News: The National – Trapped at the Border
Best Science or Nature Documentary Program or Series: Moose: A Year in the Life of a Twig Eater
Best Sports Feature Segment: Radical Play
Best Sports Opening/Tease: Raptors Playoff / Marcus Stroman
Best Sports Program or Series: Muhammad Ali – The Greatest
Best Talk Program or Series: The Marilyn Denis Show
CRAFT CATEGORIES
Barbara Sears Award for Best Editorial Research: Painted Land: In Search of the Group of Seven – Nancy Lang, Michael Burtch, Joanie McGuffin, Gary McGuffin, Rebecca Middleton, Emma Hambly
Barbara Sears Award for Best Visual Research: How to Change the World – Elizabeth Klinck, Liz Etherington
Best Direction in a Documentary or Factual Series: War Story: Afghanistan – The Long Way Home – Barry Stevens
Best Direction in a Documentary Program: Guantanamo's Child: Omar Khadr – Patrick Reed, Michelle Shephard
Best Direction in a Lifestyle or Information Program or Series: Vikings Season 4 Special – Frank Samson
Best Direction in a Live Sporting Event: 2015 Grey Cup – Andy Bouyoukos
Best Direction in a Reality/Competition Series: The Amazing Race Canada "For Those About to Rock" – Rob Brunner
Best Original Music for a Non-Fiction Program or Series: Guantanamo's Child: Omar Khadr – Mark Korven
Best Photography in a Documentary Program or Factual Series: Real Vikings: Age of Invasion – Mark Caswell
Best Photography in a Lifestyle or Reality/Competition Series: The Amazing Race Canada "Who's Ready to Let it All Hang Out" – Ryan Shaw
Best Photography in a News or Information Program, Series or Segment: CBC News: The National "Ethiopia on Edge" – Richard Devey
Best Picture Editing in a Documentary Program or Series: Hip-Hop Evolution – From the Underground to the Mainstream – Steve Taylor, Mark Staunton
Best Picture Editing in a Factual Program or Series: This Is High School "Grade 9 is the Worst Year" – Sarah Cruise
Best Picture Editing in a Reality/Competition Program or Series: The Amazing Race Canada "Who's Ready to Let it All Hang Out" – Mike Tersigni, Ben O'Neil, Burak Ozgan, Jonathan Dowler, Allan Hughes
Best Production Design or Art Direction in a Non-Fiction Program or Series: The Tragically Hip – A National Celebration – Brent Clark
Best Sound in a Non-Fiction Program or Series: Sonic Magic: The Wonder and Science of Sound – Jeff Henschel, Ewan Deane
Best Writing in a Documentary Program or Series: The Woman Who Joined The Taliban – Richard O'Regan
Best Writing in a Factual Program or Series: Still Standing "Vanastra" – Jonny Harris, Fraser Young, Steve Dylan
Best Writing in a Lifestyle or Reality / Competition Series: The Amazing Race Canada "Toads! Are you Kidding Me?" – Mark Lysakowski, Rob Brunner, Jennifer Pratt
PERFORMANCE CATEGORIES
Best Host in a Lifestyle, Talk or Entertainment News Program or Series: Still Standing – Jonny Harris
Best Host or Interviewer in a News or Information Program or Series: CBC News: The National – Wendy Mesley
Best News Anchor Local: CTV News Edmonton – Daryl McIntyre
Best News Anchor National: CTV National News with Lisa LaFlamme – Lisa LaFlamme
Best Sports Analyst in a Sports Program or Series 2016 NBA Playoffs: Heat vs. Raptors Game 7 – Jack Armstrong
Best Sports Play-by-Play Announcer: 2015 Grey Cup – Chris Cuthbert
SPECIAL AWARDS
Gordon Sinclair Award for Broadcast Journalism: Simcha Jacobovici