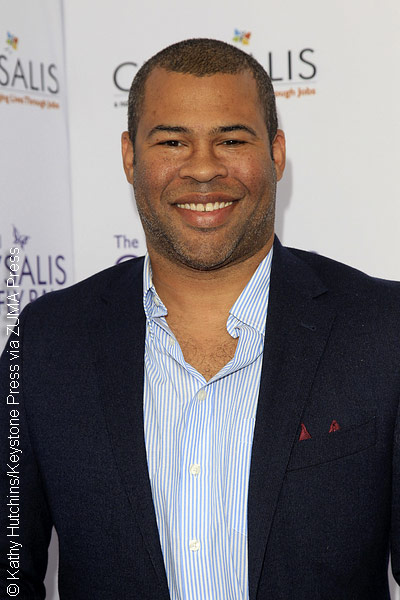 It's no doubt that if you've seen Jordan Peele's horror-thriller flick Get Out, you definitely felt the film's comment on the rough racial climate of today. That's why many are sounding off over the film's entry into the 2018 Golden Globes under the category of comedy, including the film's director.
Peele took to Twitter to voice his feelings about the decision, tweeting that the film is "a documentary." The hit film deals with a young black man named Chris (played by Daniel Kaluuya) who goes for a weekend away to meet his white girlfriend Rose's (played by Allison Williams) family.
When he arrives, things feel strange, especially when he finds out Rose's family employs a black housekeeper and groundskeeper. In addition to other odd things occurring, Rose's mother hypnotizes Chris without his consent.
While the film definitely offers a few chuckles thanks to Chris' friend Rod (LilRel Howery), it certainly isn't a comedy. Peele has always been clear that the film is trying to draw attention to the still-ongoing racism African Americans face at the hands of a society that still doesn't see, much less treat, black people the same as white people.
For Peele, the fact that the film is being labeled a comedy makes light of the serious subject matter the film is trying to personify. He told Indie Wire, "The major point to identify here is that we don't want our truth trivialized. The label of comedy is often a trivial thing. The real question is, what are you laughing at? Are you laughing at the horror, the suffering? Are you disregarding what's real about this project? That's why I said, yeah — it's a documentary."
Even LilRel Howery, who provides most, if not all, of the laughs in the film was surprised by the decision, tweeting, "But if I can be honest this is weird to me… Their (sic) is nothing funny about racism… Was it that unrealistic lol"
However, perhaps as with other films in previous years, the comedy classification will give the film and the actors better chances at winning as they compete against much lighter fare. Regardless of what category the film is placed, Get Out was a smash with audiences and critics alike, and offers serious competition for other films vying for top honors at the 2018 Golden Globes.
You can see Peele's and Howery's respective tweets below. ~Alexa Caruso
To see our exclusive video of the Get Out Blu-ray Launch Party at Universal Studios in Los Angeles featuring Jordan Peele and the film's stars, click here.
'Get Out' is a documentary.

— Jordan Peele (@JordanPeele) November 15, 2017
But if I can be honest this is weird to me… Their is nothing funny about racism… Was it that unrealistic lol https://t.co/5xSXBmatfP

— Lil Rel Howery (@LilRel4) November 14, 2017