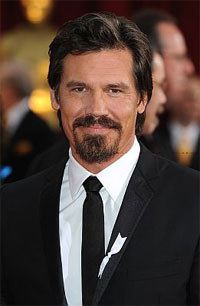 Oscar-nominated star Josh Brolin is embroiled in rumors of an alleged affair with a female fan.
Brolin, who is married to actress Diane Lane, was spotted "getting cozy" with a female fan at bars in New Orleans, where he's filming new movie Jonah Hex.
Sources in the area are saying that Brolin allegedly partied with Melissa Green at the Royal Street Inn and another establishment last week, and the two left early the following morning.
An eyewitness told tabloid In Touch: "They left together. Josh looked like he hadn't slept at all and she was wearing the same outfit as the night before and looked embarrassed."
Brolin and Lane's publicist failed to respond for comments.