Julia Roberts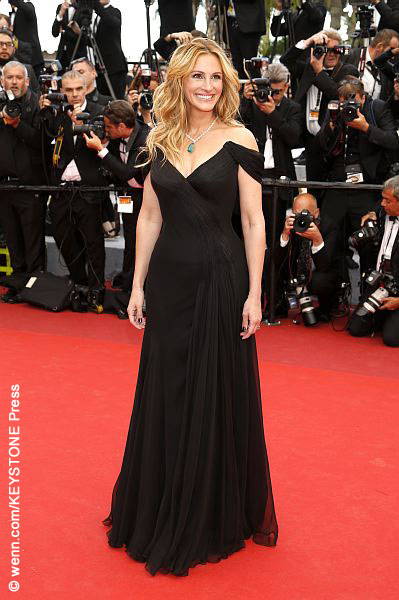 does what Julia Roberts wants.
A year after the Cannes Film Festival made headlines when red carpet officials (in)famously turned many women away from premiere screenings for not wearing heels, Julia slipped out of her black peep-toes and walked the steps into the theater shoeless.
The 48-year-old Oscar-winning actress, who was out last night at the festival to debut her latest film Money Monster, made a bold statement with the gesture.
Cannes is known for its rigid and unwavering protocol. Last year, women who stepped foot on the red carpet in flats were denied entry. Subsequently, a fury of outrage was unleashed and the festival was criticized for its policy.
Representatives of Cannes responded to the media storm by saying its guards were wrong to enforce such a dress code, and that no policy regarding the height of heels exists.
Following Julia's intrepid move, the French magazine L'Express praised the actress and called her barefoot ascension into the theater a "veritable act of militant feminism."
The Erin Brockovich leading lady was seen laughing about the situation afterwards with her Money Monster co-star George Clooney.
Money Monster is Jodie Foster's latest directorial project and opens in theaters everywhere today. ~Matthew Pariselli