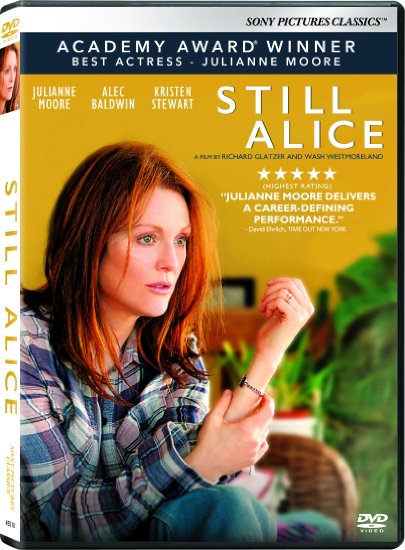 You may have heard a lot about this film during award season, as it was buzzing with talented names and performances. Still Alice's leading actor, Julianne Moore was among the top contenders who bagged every award this past year, including an Oscar. After watching this film I can say Julianne's win was well-deserved.
Still Alice is a well-painted canvas revealing the heartbreaking trials and tribulations of early onset Alzheimer's. This may sound like a been-there-done-that story about the hardships of a disease, but this one is layered with applause-worthy performances that leave you reflecting upon the gift of memory.
The plot revolves around Alice Howland, a 50-year-old linguistics professor who is happily married with three grown children. She is successful and has published a book that is considered a cornerstone for linguistics education worldwide. Her oldest daughter Anna (Kate Bosworth) is a lawyer, her son Tom (Hunter Parrish) is a doctor and her youngest daughter Lydia (Kristen Stewart) is a struggling actress.
When Alice starts forgetting words, she dismisses it as a sign of old age. It's when she loses her way on campus, one that she has been working at for a while, that she gets herself checked. Alice is diagnosed with Early-Onset Alzeheimer's disease, a rare type that is passed on genetically. Not only does Alice have to deal with losing her identity but also fears for her children who, if they carry the gene, have a 100 per cent chance of having Alzeheimer's. The irony is that someone who spent her life teaching the scientific study of language has to struggle to remember simple words and names. At one point, Alice reveals she wishes she had cancer as she wouldn't feel so ashamed.
Being the level-headed woman she has always been, Alice creates a logical step for herself in the event she is no longer able to answer basic questions, like the names of her kids. As time goes on, Alice struggles to remember mundane tasks and her husband's patience is also tested as he cares for his wife.
Julianne Moore performs with delicacy as she bridges the gap between the life she once knew and the life falling out of her grasp. As the disease takes over, her incapacity to communicate or carry out mundane tasks is visibly and movingly portrayed. Julianne makes you, even if it's for a brief moment, wonder what it would be like to walk in her shoes and struggle with memory.
This is a brilliant film with equally brilliant acting turned in by Julianne Moore. Her heart-wrenching performance is most definitely her career-defining role. For her part, Kristen Stewart did not fail to impress as she showed compassion and maturity as the youngest Howland family member. Overall, this is a must-see film that sheds light on Alzheimer's and how the disease challengers the family's bonds.
There is one special feature on the DVD – a featurette called: Finding Alice: the cast, filmmakers and Alzheimer's experts discuss what went into creating an accurate depiction of Alice Howland's disease.
~Marriska Fernandes
New on DVD this week include Mortdecai, Blackhat, The Cobbler, The Last Five Years, Tracers, Just Before I Go and The Birder.
Watch the trailers here:
Mortdecai
Blackhat
The Cobbler
Just Before I Go
The Last Five Years
Tracers
The Birder