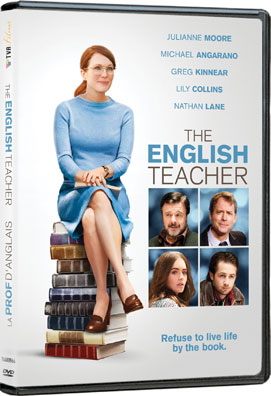 Julianne Moore stars in The English Teacher as Linda Sinclair, a 45-year-old reserved single woman who loves to read. She abhors mundane daily life and instead, buries herself in literature. She becomes an English high school teacher and one night while withdrawing cash from a bank machine, a dark figure approaches her. She quickly pepper sprays him, but it turns out to be a former student, Jason Sherwood.
He's back from New York, where he earned a university degree and wrote a play, but wasn't able to get anyone to produce it. Discouraged, he moves back home and considers studying law instead. Linda won't hear of it. She decides to read the play herself, and she's so moved by it that she asks Carl Kapinas, the drama teacher, to read it. He also loves it and together, they convince the principals to allow them to stage it at the high school.
The movie is unique, with narration that makes it almost seem as if it's a fairy tale. However, unlike most fairy tales, the characters are nuanced—no one, not even Linda, is 100 per cent good. She's flawed, as is everyone in this movie (and in real life). She's also very likeable and when, despite her good intentions, she's exposed and humiliated when the one time in her life she does something she probably shouldn't have done, she remains a sympathetic character.
Julianne Moore plays the role perfectly. Despite being a bookaholic and having spent most of her life alone, Linda has enough people skills and intelligence to make the best of things.
Michael Angarano plays Jason as an emotionally damaged, artistic being. It's easy to see why women want to take care of him and why Linda works so hard to help him find success.
Although the movie is a drama, there are laugh-out-loud comedic moments, especially at the end, when Linda's world takes a very different turn. The story is delightful and moving, emotional and uplifting, without being cloying. Director Craig Zisk, a veteran television director, makes an outstanding feature debut with this screenplay, written by first time collaborators, Dan and Stacy Chariton.
Although it received a limited release in theaters, The English Teacher is an extremely entertaining film with excellent performances from the entire cast, including Greg Kinnear, Nathan Lane and Lily Collins.
Other home releases available this week: The Croods, This is the End and The Frozen Ground.