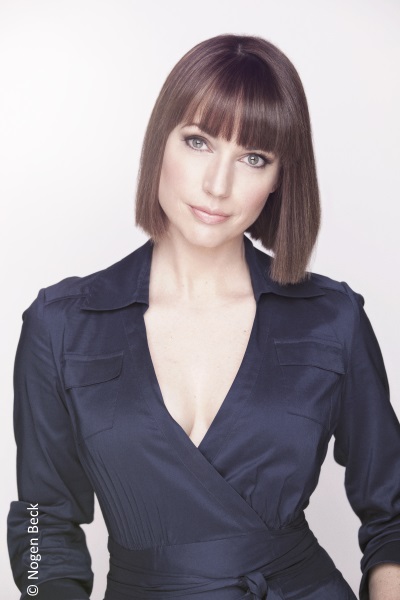 After the long-running success of AMC's Breaking Bad, showrunner Vince Gilligan and writer Peter Gould created a prequel, titled Better Call Saul. The highly buzzed about show revolves around the trials and tribulations of criminal lawyer, Saul Goodman, the ace lawyer for dealer Walter White. The prequel looks back at Saul's life about six years before he established his strip-mall law office in Albuquerque, New Mexico.
We chatted with recurring cast member Julie Ann Emery, who plays Betsy Kettleman. Julie is no stranger to the small screen, as she played Ida Thurman on the Emmy and Golden Globe winning mini-series Fargo and starred alongside Eva Mendes in Hitch.
Congrats on landing a role on this highly buzzed show!
Thank you. I got very lucky. After we shot that first episode, the writers really ran with it. I'm very excited.
How did you land the role on Better Call Saul?
My agent sent me an audition and I read it and I thought, "Oh I'm such a giant Breaking Bad fan, but I'm not for this role" and then I thought, "Well, if I do a good enough job, maybe they will consider me for something down the line." I was in New York at the time so I put myself on tape at a place called the Tape Room and sent it in and a couple of weeks later I got a call that it was going to be me. So it all happened by tape and I was shocked that they chose me. Shocked.
Tell us about your character Betsy Kettleman.
Betsy Kettleman is unlike anyone I've ever played. Betsy seems like a pretty happy average American housewife and mother and in fact she is the driving engine behind her family and everything they do. She wears the pants in her family. When we were shooting the first episode, Vince Gilligan came in very early on and said to Jeremy Shamos, the brilliant actor who plays my husband, "I don't think he knew how to put on his socks before he met her," and I thought that was such a great relationship note that Mrs. Kettleman gives all the cues that happens in their lives. I don't think Mr. Kettleman even says very much that they haven't discussed in private. She also wants a lot for her family as do pretty much all American families. Betsy is just willing to go a lot further than credit card debt and second mortgages. She is willing to go as far as she needs to go to accomplish her vision for her family and what she thinks they can be. She is tenacious!
Do you share any characteristics with her?
Do I? ( laughs) I would say in doing that first audition, I did think, "How does this look on me?" I think I can be very tenacious. I've never broken the law but when I have a dream, I tend to go after it. I grew up in a very small town in Tennessee, on a mountain and it's beautiful there but I've never known anyone that went into the business and even just having that dream took a lot and I think Betsy is that person. I think she dreams big and imagines big and I think she has big plans for Mr. Kettleman's political career and they need money to do that. So I think at the heart of her there is a drive and tenacity that I find in common with her.
Did you do any sort of preparation for this role?
Yes, a lot and happily Jeremy Shamos and I did a lot of it together. We had very little information when we shot the first episode and obviously things changed a lot for the Kettlemans after that episode. The writers really took hold of them and ran with them a different way. Because we had so little information, Jeremy and I would get together and do improvisation and we would work together, we really dove into figuring out who we thought they were. We were swapping YouTube videos of couples being interviewed that we thought had a similar dynamic. I became obsessed with who I thought Betsy's heroes were because she is so driven. I thought, "What does she want? What is her endgame?" Jeremy sent me the Mitt documentary and I thought, "Yes, The Romneys are her heroes. Why is she taking a chance like this, why is she taking money? What is motivating her?" I did become obsessed of what her idea of who she is presenting on the outside vs who she is on the inside. Because I think with Betsy, the outside of her and the inside of her are two very  different things.
What is it like filming in New Mexico?
It's gorgeous! You are surrounded by mountains. Albuquerque is actually very high in elevation, which you don't think of because it looks so desert-like. The weather is mostly really gorgeous, but the first day I was there we had this sandstorm that was almost biblical. It was crazy. I had never experienced anything like it. But we also had a snake wrangler on set whenever we were shooting outside because there are so many poisonous snakes . His job was to clear areas and he would tell you where you could go and where you couldn't.
What has been your favorite scene so far?
My favorite scene up to this point is in episode 104 when we bribe Jimmy. I love that Jimmy's first moment of corruption doesn't come from Nacho, or a gang-banger drug dealer. It comes from an all-American housewife. I love that she is his first little taste.
How is Better Call Saul different from Breaking Bad?
The tone of Breaking Bad really was Walter White's world and the tone of it shifted as the show went on and he devolved fully into Heisenberg. I think the show got a lot darker as it went on. Better Call Saul is the world of Saul. It still has its similarities but the tone of it is a little lighter or maybe there is just more dark humor. Saul has a biting sense of humor and that permeates the whole thing. The pace is faster in terms of dialogue because Saul is a fast talker, that's how he lives his life so I think the scripts are more dialogue heavy but the tone has a little more comedy than Breaking Bad. There is a different lightness to it. There is a hijinks elements to it.
What will Breaking Bad fans like about the show?
I think the fans will be drawn because of Vince Gilligan and Peter Gould. Those guys are two of the greatest minds we have right now, two of the best directors on television and because fans are hungry for more Breaking Bad I think others will be drawn because the tone is a little lighter and not as dark yet. I think it's possible that there is a wider draw for Better Call Saul.
Better Call Saul airs on AMC on Mondays at 10/9C. ~Marriska Fernandes