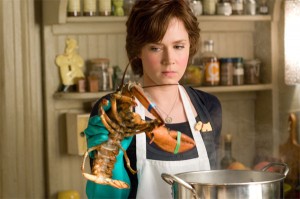 Sweet and charming, with a dash of humor, would be the perfect recipe to describe Amy Adams—the Oscar-nominated actress who stars as Julie Powell in the upcoming Julie & Julia based on the lives of famous chef Julia Child and Julie Powell whose idolization of Child inspired her to change her life through cooking French cuisine.
Before becoming a charming actress with a knack for comedy, Amy Adams aspired to be a ballerina. Raised in Colorado, her love of music and dance brought her to Boulder's Dinner Theatre and Country Dinner Playhouse where she performed onstage, singing and dancing. It was there that Minneapolis dinner-theatre director Michael Brindisi noticed her and invited her to perform at the Chanhassen Dinner Theatre in Minnesota. Adams took Brindisi up on his offer and, at age 20, she and her family relocated.
In 1998, after performing for three years at the theatre, Adams jumped at the opportunity to audition for a part in the film Drop Dead Gorgeous (1999), which fuelled her passion for acting. "I worked in dinner theatre… for three years, when I was cast in Drop Dead Gorgeous," Adams has said. "And that gave me the chutzpah to move to Los Angeles."
After moving to California, Adams found work on various television shows, but none of them brought the success she hoped for. Even though landing a role as nurse Brenda Strong in the biographical crime drama, Catch Me If You Can (2002) – starring Leonardo DiCaprio and Tom Hanks – was a step in the right direction, Adams' Hollywood radar still wasn't on the map. Her big break would come later with the independent film Junebug (2005) where she played the quirky and sensitive pregnant woman, Ashley Johnsten. Shot in just 21 days, the low-budget film received critical acclaim and garnered Adams an Academy Award nomination for Best Supporting Actress. Finally, Adams was being recognized for her acting abilities.
The following year, she was chosen from 300 actresses to play fairytale character Giselle in the animated/live-action film, Enchanted (2007). Her innocence and optimism, which was quickly becoming her trademark, earned her a Golden Globe Award nom for Best Actress.
Riding on the heels of her success were roles in Charlie Wilson's War (2007), Sunshine Cleaning (2008) and Night at the Museum: Battle of the Smithsonian (2009), in which she played Amelia Earhart opposite Ben Stiller. With her performance as Sister James in Doubt (2008) opposite Meryl Streep and Philip Seymour Hoffman, she picked up another Academy Award nom for Best Supporting actress, as well as nominations for a Golden Globe, Screen Actors Guild Award, and British Academy Film Award.
In the upcoming Julie & Julia, Adams will star once again with Meryl Streep in the biographical drama, in which she portrays the life of cookbook author Julie Powell, who was so intent on spicing up her boring life she decided to cook all 524 of Julia Child's recipes from her cookbook, Mastering the Art of French Cooking, in one year.