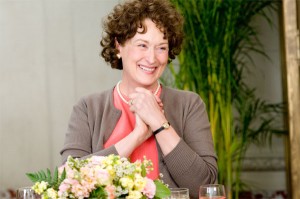 Hailed as the greatest actress of all time, Meryl Streep shows no bounds when it comes to her craft. In the upcoming movie Julie & Julia, Streep portrays the iconic chef Julia Child, proving that not only can she tackle just about any role that falls into her lap, but she is also a force to be reckoned with when armed with an apron, spatula and fry pan.
"I am being paid to do a job every time I sign on that contract line," Streep, who recently turned 60, has said. "I have tried to do it to the best of my ability since day one. If I accept an assignment, a role, I don't go into it half-assed. If I am not confident that I can portray the character perfectly on screen, I won't even try. For the most part, if a script is polished and the character is intriguing, somewhat challenging, and fully developed, and the team working on the film are all professionals, what is there to lose?"
With artistic talent running in the family, Meryl Streep was predestined for greatness—her father was an avid piano player and her mother dabbled in art. As a child, Streep took music very seriously and at only 12 years old she was already studying to become an opera singer. But after taking drama classes in high school, she fell in love with acting. In 1977 she made her television and film debuts in The Deadliest Season and Julia. She then went on to play the leading role in the television miniseries, Holocaust (1978), as an Aryan woman married to a Jewish artist in Nazi Germany. Her mastery of the deep, emotional role brought her public recognition as well as a Primetime Emmy Award for Outstanding Lead Actress. That same year she was nominated for her first Academy Award for Best Supporting Actress for The Deer Hunter (1978).
Just one year later, Streep had three more award-winning films under her belt: Manhattan, The Seduction of Joe Tynan, and the critically-acclaimed Kramer vs. Kramer for which she nabbed her first Oscar for Best Supporting Actress. She began to rake in many "best actress" awards from the Los Angeles Film Critics Association, the National Board of Review and the National Society of Film Critics.
By the 1980s, her versatility and talent for accents propelled her further into the spotlight. Streep was now taking on lead roles. In the poignant film Sophie's Choice (1982), in which she played a Polish Jewish Holocaust survivor, Streep garnered an Academy Award for Best Actress. She also won various other awards and nominations for her work in Silkwood (1983), Out of Africa (1985), Ironweed (1987) and Evil Angels (1988).
Recently, she starred in Prime(2005), The Devil Wears Prada (2006), for which she won a Golden Globe Award for Best Actress in a musical or comedy, and Mama Mia! (2008). For her role as Sister Aloysius in Doubt (2008), she received a Best Actress Oscar nod and a Golden Globe nomination for Best Actress.
Keeping on track with picking exceptional and diverse roles, Streep is set to dazzle on screen as the famous chef Julia Child in the biographical drama Julie & Julia. Based on two true stories, Julie & Julia intertwines the lives of two women who, though separated by time and space, are both at loose ends until they discover that with the right combination of passion, fearlessness and butter, anything is possible. Streep reunites with her Doubt co-star Amy Adams who stars as Julie Powell, a woman who vowed to make all 524 recipes in Child's cookbook Mastering the Art of French Cooking within 364 days. Sounds simply delicious.
Did you know?
Meryl Streep holds a number of award records:
Actress with the most Golden Globe wins (6)
Actress with the most Golden Globe nominations (23)
She holds the greatest number of Oscar nominations for acting amongst males and females (15) (Streep has won a total of two Oscars)
73 total acting award wins and 82 total acting nominations from various associations