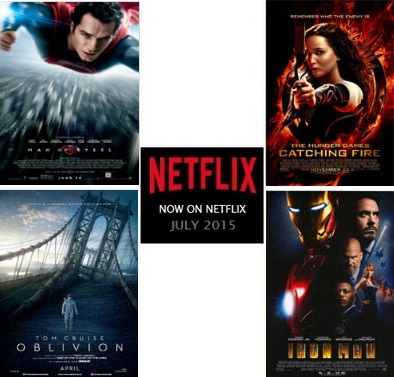 Happy Canada Day, friends! Whether you're sipping margaritas on the patio or having friends over, binge-watching is just a click away. This July, Netflix serves a dash of drama, a punch of action and a bag full of laughs. Also, there's a special menu of items celebrating our very own Canadian films and talent who have graced the big and small screen. Here's how you can enjoy the Canuck fest and have a wonderful binge-watching July!
Made in Canada
Canada has been a stopover for many film and television productions. You can catch some of these filmed-in-Canada features like the irresistible Hannibal, the very fetching Mean Girls, and the dapper law drama Suits – all of which were filmed in Toronto. Vancouver-shot productions include the Netflix original The Killing and Rise of the Planet of the Apes. Heartwarming Titanic (Halifax), Oscar-winning Brokeback Mountain (Calgary) and fan-favorite X-Men: Days of Future Past (Montreal) are also some Canadian dramas available for the taking.
Just for Laughs
Catch some of the funniest Canadians like Jay Baruchel and Seth Rogan in Knocked Up, Russell Peters in Russell Peters Notorius and Mike Myers in Shrek. Schitt's Creek, Kenny Vs Spenny and Arrested Development also honor some of Canada's funniest actors on television.
Canadian Babes
Be still, my beating heart. Handsome hunk Ryan Reynolds sets the screen on fire in Adventureland while Ryan Gosling sizzles in the action film Drive. If that wasn't enough, fellow Canuck Rachel McAdams romances Channing Tatum in The Vow, while Nina Dobrev gives you a bite of The Vampire Diaries.
Netflix Goldmine
Netflix has been pumping out a whole lotta new shows this year and the next one on the list is Wet Hot American Summer: First Day of Camp. Freshen up on the movie before the show streams on July 31. Turbo Fast Season 2 will also swim to action  on July 31. In addition, exclusively on Netflix is the thriller Creep. The story unfolds when a videographer answers a Craigslist ad for a one-day job in an isolated town, but finds his client is not at all what he initially seems. Yikes, ain't that giving you the chills?
Evil be Damned
We all need a superhero, especially if Robert Downey Jr. or Henry Cavill have something to do with it. July 1 will bring Iron Man and Pacific Rim to the front lines while Henry Cavill suits up in Man of Steel coming July 5.
Just Keep Cruisin'
Tom Cruise will dominate your screen, and heart, this July as Oblivion, Top Gun and Interview with the Vampire will be available for streaming from July 1.
May the Odds be Ever in Your Favor
Katniss Everdeen and Peeta Mellark will join you for dinner as The Hunger Games (July 1), The Hunger Games: Catching Fire (Available now) and The Hunger Games: Mocking Jay – Part 1 (July 24) will take over your binge-watching sessions this month.
Good Cop, Bad Cop
Denzel Washington accompanies the action-packed Training Day (July 1) while streetwise cops Owen Wilson and Ben Stiller bust criminals in the spoof Starsky & Hutch. Eddie Murphy tries to protect the city in Beverly Hills Cop. Have you had your fill yet?
Get Groovin'
Put on your dancing shoes and get groovin'! Step Up, Step Up: The Streets and Step Up 3 are hitting your Netflix door on July 1. Psst…Channing Tatum shows off his moves in Step Up.
Summer Binge
For those of you who wish to binge on a few summer shows, Hot on Wheels Season 4 will satisfy your appetite starting July 4. The Witches of East End (July 7) drop by with their potions for a second season of charm. Rectify Season 3 (July 10) will also heat up the screens as you help yourself to a third, no questions asked.
Furry Friends
Of course, there's always something for the lil' ones. The Book of Life springs to action on July 1 while The Penguins of Madagascar swim by on July 15 for a fun-filled family day. Monster High: Scaris, City of Rights will keep your little ones company starting July 7.
Have a super streaming summer! ~Marriska Fernandes