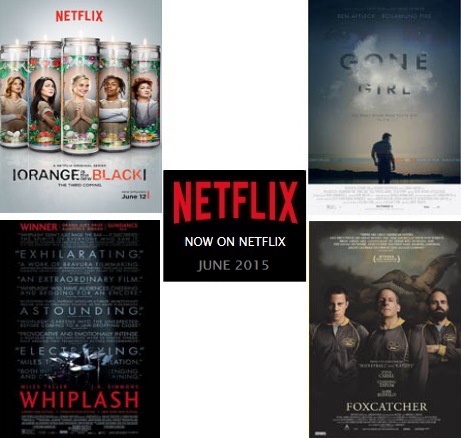 Summer series are in full swing as hot new shows make their way to your screens. While Netflix's popular original series Orange is the New Black Season 3 takes up residence on your screen, the new Netflix original series Sense8 is all set to swing in and steal the spotlight. Here's what's cooking on Netflix this month.
Netflix Goldmine
Season 1 of Sense8 will hit the streaming arena on June 5 while the ladies of Litchfield return for a third season of the hit show Orange is the New Black on June 12. June 26 will welcome Dreamworks Dragons: Race to the Edge Season 1 and What Happened, Miss Simone? Also available exclusively on Netflix is the sci-fi drama Advantageous (June 23).
Rebels on the Run
The Maze Runner (June 30), based on the young adult novel of the same name, brings Dylan O'Brien, Will Poulter and Kaya Scodelario to the center of the Glade and you can join them on this ride to survival. Nicholas Hoult and Elle Fanning play house in Young Ones (June 24), a futuristic drama set in a land where water is a precious commodity. Also, rebelling against a secret government group are Matt Damon and British actress Emily Blunt in the drama The Adjustment Bureau (June 1). 
Mad for Mystery
One immensely popular book and film, Gone Girl (June 1), finally hits the Netflix scene. While Nick, played by Ben Affleck, is on the hunt for his missing wife Amy, played by Rosamund Pike, evidence starts turning up against Nick. Can you piece two and two together before it's too late? While Liam Neeson takes charge in A Walk Among the Tombstones (June 1), Quentin Tarantino fans can enjoy a scoop of Django Unchained, which will be available June 1. Horror fanatics will be happy to read that James Wan, director of the Insidious movies, will be back on the streaming site with the box office hit The Conjuring (June 8). Nicholas Brody and Carrie turn up the heat as they return for a third season on Homeland. More secrets are revealed and one main character bites the dust. Colin Farrell leads a pack of nutty friends in the kidnapping of a gangster's dog in Seven Psychopaths (June 1).
Feel the Beat
Award-winning Whiplash is finally here for the taking! J.K. Simmons delivers a gripping and exhilarating performance as the ruthless music instructor Terence Fletcher. Season 5 of Glee hits all the high notes as the club gets disbanded and the focus remains on graduation and the alumni. Backstreet Boys will make you sing to their swoon-worthy tunes in Backstreet Boys: Show 'Em What You're Made Of.
Make it Rain
One of the most buzz-worthy movies last year was Foxcatcher (June 18), which dives into the lives of Olympic gold medal-winning wrestling brothers, Mark (Channing Tatum) and Dave Schultz (Mark Ruffalo). Leonardo Caprio suits up for The Great Gatsby while The Best Exotic Marigold Hotel gives you one of their best suites and a royal welcome starting June 1.
Classy Dudes
The Wolfpack returns in the third installment of The Hangover (June 1) to save one of their own when there's a kidnapping in the works. Suits' dashing duo Mike Ross & Harvey Specter return for a fourth season of charm, drama and of course, lawsuits. Super Troopers will also hit the scene on June 1.
Down with Dad
In support of Father's Day, there's a bunch of new titles to enjoy with Dad. The adorable Alvin and the Chipmunks come out to play on June 1 along with Scooby Doo, Spider-Man and Transformers. Danger Mouse Seasons 1 to 10 (June 15) will also be served in plenty for the family. Bindi Irwin's new show Bindi's Bootcamp debuts for kids on June 1.
That's all folks! Happy streaming until next month!
~Mariska Fernandes