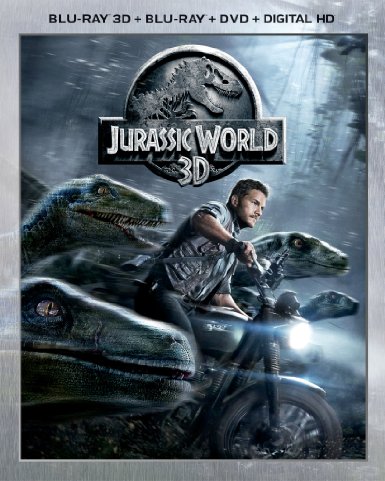 If a meteor hadn't struck Earth or if the Ice Age hadn't moved in (unproven theories for extinction), dinosaurs might still be around. Why anyone would aspire to actually be amongst these creatures, many of whom were quite vicious, is anyone's guess, but man has always been fascinated by these beasts, so much so that they have been recreated in the Jurassic Park collection of movies.
Today's amusement parks are elaborate with games, food and the midway, with something for everyone: the thrill seeker has the roller coaster while the non adventurer has the carousel. Amusement parks are science fiction and fantasy, action and adventure, fun, laughter and delight.
Jurassic World is exactly the same. It's a wild ride of thriller, sci-fi, horror and adventure with a little bit of comedy and romance thrown in for good measure. What do all these elements add up to? A movie to dazzle everyone.
The movie begins with parents sending their two sons (high school and middle school age) to Jurassic World, a fully operational theme park in Costa Rica, run by their aunt whom they haven't seen in seven years.
Bryce Dallas Howard plays Aunt Claire, whose latest assignment is to produce something with the wow factor for the sponsors of the theme park. What does she do? She creates the Indominus Rex, a sort of hybrid dinosaur.
The boys arrive at Jurassic World. It's about 20 years after the first film and the theme park has re-opened. It's colorful and bright – full of people and stunning scenery, yet serene and tranquil. The music sets up the hopes and promise of an exciting holiday for all.
It's all good at first. Guests can observe dinosaurs from afar, or they can interact up close and personal: they can paddle down river with dinosaurs in the water. They can enjoy a petting zoo. Technology has been busy since the earlier theme park days and the safari type sightseeing car has been replaced with the bubble car. This is where the brothers get caught when everything turns bad.
When Claire realizes she is in trouble, she reluctantly has to ask for help from Owen (Chris Pratt), an ex-military man and animal expert.
Chris Pratt has this smouldering power. No ego. No obnoxious bravado. Just an appealing yet understated machismo. The rumors swelling that he will be the next Indiana Jones are welcomed.
Bryce Dallas Howard's detached Claire won't admit any wrongdoing when it comes to the creation of Indominus Rex, but Owen is immediately concerned for the thousands of tourists at the park. The dinosaur has intelligence and things begin to unravel quickly. All of a sudden, the bubble car is no longer a midway attraction. Now the boys are in the Costa Rican jungle and on the ride of their lives.
Director Colin Trevorrow wanted Jurassic World to incorporate a little of everything: fun, drama, adventure, romance and ethics. It does. Man creating dinosaurs? That's just playing with fire. But we are never satisfied with what we have and are always looking for the next thing and it better be bigger and faster and better. The hubris of humans to think we have dominion over all is almost funny, if you don't think about what is coming next in the film.
Industrial Light and Magic (ILM) did a great job with the dinosaurs, from the hatching of the first egg to the eyeballs, skin and scales.
The music was like Jaws, but for dinosaurs of course, and with Steven Spielberg on board, would it be any other way?
Additional features included deleted scenes, an interview with Chris Pratt and the director called Take on the World and Dinosaurs Roam Once Again. The three-disc combo pack includes Blu-ray 3D, Blu-ray, DVD & Digital HD.
Also releasing today on DVD are Paper Towns, Dope, Testament of Youth, Hungry Hearts and The Wolfpack. Click here for a full list of new DVD releases. ~Sharon Salsberg