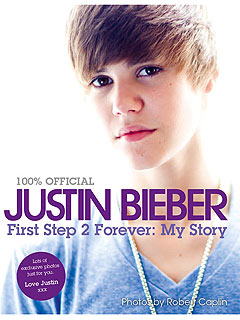 It may seem odd that at just 16 years of age, Justin Bieber has written his autobiography. However, his rise to fame is nothing short of incredible and how he got there is actually an interesting read (though a quick one at 240 pages — many of them full page color layouts). It's amazing that just over two years ago, he was busking in front of the Avon Theatre in Stratford (his hometown). Not only that, the kid was making $200 a day doing it. He'd started earning money that way when he was 12 and there couldn't be a better place for a cute kid to play guitar and sing than in Stratford, where thousands of tourists flock every year for The Stratford Festival. You can check YouTube to see him busking — tourists videotaped him and put the videos online. Considering that these are videos made by nonprofessionals, his voice comes through clear and strong, and his guitar playing's not bad, either. Plus, the kid can actually sing.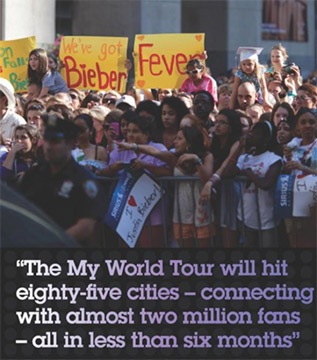 He also entered a local talent competition at around that time and was the youngest competitor in the top three. Amazingly, he didn't win, but it will undoubtedly be inspirational to aspiring performers to find everything didn't always go perfectly on his rise to fame (although pretty much everything else fell into place, aside from a failed written driver's test that he didn't study for). His single mom, Pattie, put a video on YouTube so the members of his extended family who hadn't been able to attend in person could see him compete. Then they put up more videos of him singing at home. The videos went viral — people began to hear about this cute little kid with the amazing voice. His videos got thousands of hits. Managers started calling. Pattie was skeptical and turned them down. However, one of them — Scooter Braun — was persistant. He convinced Pattie to bring Justin to Atlanta to meet recording executives and the rest is history.
Now the biggest pop star in the world, Justin made it without being the star of a Disney show first. And although it seems like he's been around for years, his first album was released only last year and he won his first two awards in Toronto at the MuchMusic Awards earlier this year. Last year, he was performing in malls and this year, he's doing a world tour to packed stadiums. Next year, his biographical movie, Justin Bieber: Never Say Never, will be released.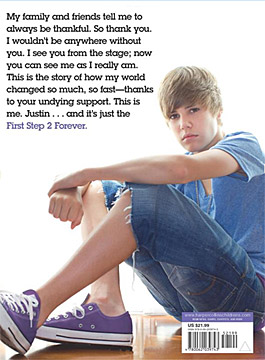 The book is chock full of photos, though strangely, they're all current. There are no photos of him as a child or pictures of the family members he mentions in the book. I think there are photos of his mom, his manager and several other people he mentions, but they're not identified. Maybe the publishers assumed everyone who reads the book already knows the faces of his entourage. Probably his fans will, and the book is really for them. The first page with writing on it is dubbed: "A Special DM to the Greatest Fans in the World," and they're the ones who will buy this book, pore over it a million times, carry it around with them and study each photograph in detail. The suggested retail price is $24.99, and it's worth it if you're a Justin Bieber fan, or have one in your family. ~Alexandra Heilbron