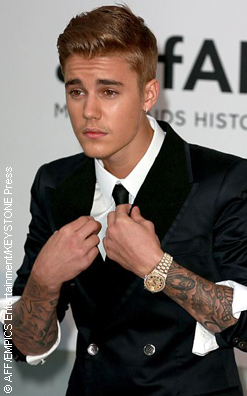 It looks like his Comedy Central Roast vow to clean up his act didn't last very long. Boy-next-door-turned-bad-boy Justin Bieber was reportedly involved in a little mix-up with security guards at the Coachella Valley Music and Arts Festival on Sunday, April 12.
According to TMZ, Justin was at the artists' entrance trying to catch Drake's performance when he and his crew were stopped by security and told they couldn't get in because it was at capacity. Despite having wristbands and being invited backstage by Drake, security refused to let them in. Justin allegedly insisted that he couldn't stand in the crowds because he'd get mobbed by fans — which seems more than likely when you're Justin Bieber.
Reports claim when a member of the Coachella staff tried to escort him into the area, security stepped in and put him in a chokehold before kicking him out of the annual California event.
According to TMZ, sources close to Justin say he left voluntarily and is considering legal action against the Coachella security guards who manhandled him. ~Sandra D. Sukraj