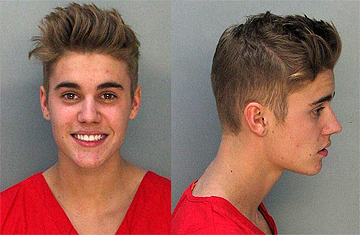 Bail has been set for Justin Bieber at $2,500 after he appeared before Judge Joseph P. Farina in a court in Miami. Bieber was wearing an orange prison jumpsuit and handcuffs as the judge announced the amount of bond for DUI, resisting arrest, drag racing and driving with an expired license.
Although he looks remarkably perky in his mug shot, considering he's facing up to six months in jail, he had a pouty, insolent look on his face as the judge was speaking.
The police officer who charged Bieber described him as being in a stupor. Miami Police held a news conference, during which Chief Raymond Martinez said Bieber was "a little belligerent, questioning, using some choice words, why he had been stopped." He added, "[Bieber] made statements he had consumed some alcohol, been smoking marijuana and consumed some prescription medication." Bieber's blood alcohol level was .04, but because he's underage, that means he's still being charged with DUI.