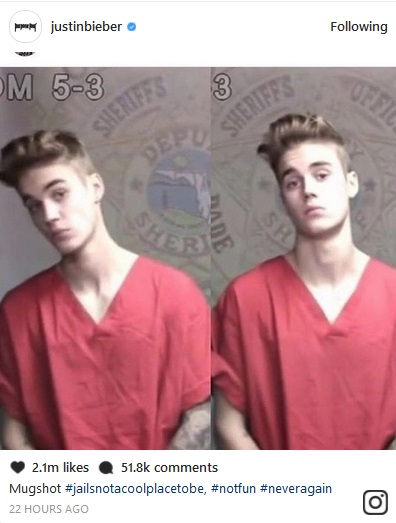 Remember the time Justin Bieber went to prison and we were left with a scrapbook-worthy mugshot?
Well, Biebs clearly remembers his jail time two years ago and took to social to reflect on that time. He shared his 2014 mugshot on Instagram with the hashtags, "#jailsnotacoolplacetobe," "#notfun" and "#neveragain."
Looks like Bieber has learned his lesson and won't be pulling those antics anytime soon. Earlier this year he also reflected on his jail time, sharing a before-and-after photo.
"I love this because it reminds me I'm not exactly where I want to be but thank God I'm not where I used to be! The best is yet to come do you believe it?"
In 2014, Bieber was arrested in Miami Beach for DUI, resisting arrest, drag racing and driving with an expired license. In 2015, he told Complex Magazine: "I went in [jail] and I'm telling you that 24 hours sucked. It was really cold. That was the worst part about it. It's freezing; it's uncomfortable; there are people in there you just don't want to be around."
So all's well with the "Baby" singer, Beliebers! We'll just keep entertaining ourselves with the glory of "Despacito" with a Dorito or two. ~Marriska Fernandes