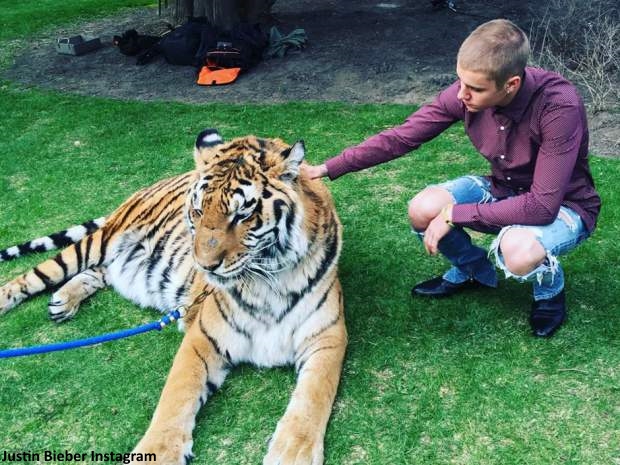 After Instagramming a photo of himself petting a tiger in May, Justin Bieber may be in hot water again with animal rights groups after he's reportedly agreed to support an event at the soon-to-be shut down Bowmanville Zoo in Ontario.
The outrage stems from the private Canadian zoo's recent troubles with the law — back in April, owner Michael Hackenberger was charged with animal cruelty after a video surfaced of him whipping a young tiger during a training session.
The Ontario Society for the Prevention of Cruelty to Animals immediately began investigating the zoo after reviewing the footage, which came to light last December. Hackenberger was subsequently charged with four counts of causing an animal distress and one of failing to comply with the prescribed standards of care for an animal.
Following the scandal, the Bowmanville Zoo announced it will be shutting its doors on October 10 after 97 years in operation, due to reduced attendance and negative publicity.
According to new reports, the pop star and his family will hold a "special event" outside the zoo on Sunday in order to raise money for the relocation of the animals, called "Bieber Family Fun" Day. The Bowmanville Zoo's official website states that tickets will go for $295 a piece.
This is not the first time PETA has criticized the "Baby" singer for his affiliation with the zoo. Toronto Animal Services sent Justin a notice of violation of animal rights in July after PETA complained that he "exhibited" lions at two events. Further investigation proved that the lions were from Bowmanville. Prior to this, the celeb posted a picture of himself stroking a leashed Bengal tiger, again from the Bowmanville Zoo, and PETA lashed out with the statement, "Justin Bieber is lucky not to have had his throat torn out by this stressed captive tiger."
"Bieber Family Fun Day" or "BFF Day" will be held on Sunday, August 28. ~Shelby Morton
Good cause or plain dumb? Sound off below!
Update: The Bowmanville Zoo is refunding tickets to Bieber Family Fun Day after Justin's father took to social media to deny claims that his family will be making an appearance.
The zoo posted a statement to their Facebook page last night confirming that the event is still taking place, but without the Biebers.
"We had invited many celebrities including the Bieber family. None of the celebrities invited have any association with the zoo nor are they hosting this event – anyone who attends our fundraising event, celebrity or not, is a guest of the zoo," the statement read. "We have now been informed by the Bieber family that they are no longer attending this event."
My family is in no way affiliated or supports any zoo. Nor are we apart of or the host of any fundraiser.

— Jeremy Bieber (@JeremyBieber) August 24, 2016