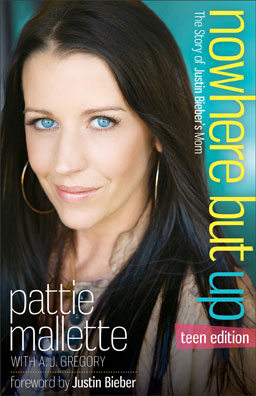 Justin Bieber's mother Pattie Mallette is a very young-looking and gorgeous 38 years of age. When you see photos of the two of them together, it's easy to assume she's his sister. Pattie is petite, with long brown hair and sparkling blue eyes. Now that Justin is legally an adult, she has more time to do her own thing. The first thing she did was write a book called Nowhere But Up, to help other women who've experienced the same kinds of problems that Pattie has — such as sexual abuse when she was a child, being an unwed pregnant teen, battling alcohol and drug abuse and struggling to survive as a single mother.
She has a great sense of humor about the fact that her claim to fame (so far) is as Justin's mother. The description she's written on her Twitter reads: "Yes Justin Bieber is my son. I have many other great qualities besides being his mom haha! No really." We had the pleasure to talk to Pattie this week by phone from New York about the newly-released teen version of Nowhere But Up and Round 2 — her foundation to help other struggling people get a second chance.
I couldn't put this book down, it was fascinating and very uplifting. How does the teen version differ from the original book?
The original book was just simply my story. This edition is geared towards teenagers, so I wrote it picturing me talking to teenagers and how they talk. I'm still sharing my story, but some rougher details were left out. Unfortunately, far too many of them can relate and they know more than we think they do. This edition has some pop out advice and statistics and resources, some places they can get help, like hotlines. One of my favorite parts is the discussion questions so that they can use them to reflect on issues that really matter and they can go through it either with a parent or some friends or in their alone time.
Y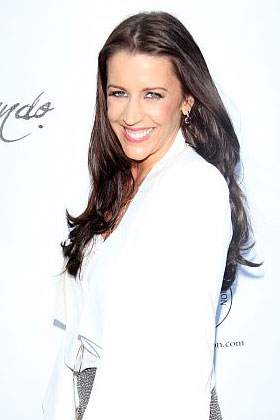 ou were an unmarried, pregnant teenager with your family telling you to get an abortion. What made you sure you wanted to keep your baby?
For me, when the time came, I just knew that I had to keep him. I wanted to be a mom. I was young and scared and unprepared but I knew that I needed to do whatever it took to be a mom. I didn't think I'd be able to go through with any other option.
Psychologists say that often teenage girls who don't have a dad in their lives try to replace him by having sex at a young age. Do you think that was the case with you?
I definitely think that played a part. You know when young people are not feeling affirmed and loved and that they're valuable, they look to feel valued in other ways and I think that they look in the wrong places. Ultimately, it often backfires.
You're the mother of the most popular teen idol in the world—do you feel you've been put into this position so you would have a voice with teen girls and the potential to be able to help them?
I do think that God uses this for good. I think that He allowed all the things that I went through – I don't think He necessarily caused it but I think He allowed it to happen and is using it to turn it around for good. I love the opportunity to have so many teenagers – I have over 2 million Twitter followers calling me "mom" and I just love the ability to be able to use that platform for good and to be able to speak into their lives.
You acted onstage at the Stratford Festival when you were 10, and your first dream was to be an actress. Now that your son is an adult, are you looking to get back into that?
So many of my dreams and my visions, I think as we age they morph and they change. I love movies and I still want to be involved in them in some aspect or another. Right now I'm focusing on producing. Someday if the opportunity arises to maybe do some directing and some acting, that would be really fun but I'm not rushing out anytime soon.
Can you tell me about your Round 2 Foundation?
The idea behind Round 2 is that when you get knocked down in Round 1 of life, there's Round 2. We want to focus on things that discourage people, that can really trip people up, like addictions and attempted suicides. So our first campaign, we're doing something called "Speak Up, Listen Up." The idea is to speak up and share your story with someone and also to listen up, and listen to someone else's story. Some people really need help on a deeper level and they can't afford counseling so one of the first things we want to be able to do is to provide counseling for some of those that can't afford it.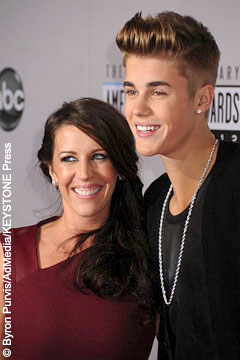 How did you decide to give Justin his father's name rather than your own?
We were going to get married. We were engaged.
When Justin was younger, did you travel with him while he was doing concerts?
Yes, I traveled nonstop with Justin when he was a minor and when he turned 18, he was wanting a little bit of space here and there so I'm on and off the road as much as I can.
Lately, Justin received criticism for being late to concerts and various other antics, but during a recent TV interview, you said Justin does a lot of great things that no one talks about – can you tell us about those things?
I would love to! Justin meets with Make a Wish kids every single night, before every single show. Every concert he does. And whenever he can, on off days, he goes and visits children's hospitals and sick kids in the hospital. For his Christmas album, he used the money to give back to the very food bank that we used to get food from. It was only five years ago, you know, that we were living in Canada on government assistance and working three jobs so yeah, when he does that kind of stuff and gives back, that makes me really proud.
You forgive your abusers in the acknowledgements – have any of them ever asked for forgiveness?
No, they have not. I had to make a conscious choice to forgive for my own sake rather than for theirs. I wrote in the original version that unforgiveness is like drinking poison and expecting the other person to get sick. So I really wanted to just forgive my abusers and let go of that pain.
Do you think you'll ever move back to Canada?
Yeah, I love Canada. I'm back and forth a lot. I was just there last week, so yeah, I would have no problem living in Canada, it just depends on where my path takes me.
Are you doing a book signing tour? I'm sure a lot of people would love to meet you.
Yes, the information is on Pattimallette.com and I'm starting this Friday in Miami, Florida. We're in 17 cities in seven days.
What's next for you after this book tour?
I'm executive producing another film called Day One and really focusing on Round 2, the foundation, doing some skiing and traveling and seeing what this teen book brings.
~Alexandra Heilbron