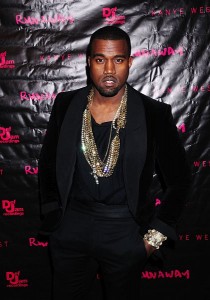 Kanye West is putting that silver tongue of his to good use once again.
The rapper—long famous for putting his foot in his mouth with a string of high profile public temper tantrums—appeared on yesterday's Today Show to be interviewed by Matt Lauer, only to lose his cool yet again.
Objecting to the playing of his infamous  Taylor Swift rant on the 2009 MTV VMA Awards show, Kanye said, "Yo, how am I supposed to talk if you're gonna run this thing in the middle of me talking?"
Despite being reassured that the clip of his rant wouldn't be heard during the broadcast of his interview, West persisted and said, "I am hearing it while I am trying to talk."
Not one to leave it at that, West took to Twitter this morning, and announced he was canceling his scheduled November 26 Today Show performance, referring to the Today Show ordeal as "the set up".
Does Kanye have a point (Tom Cruise likewise lost his cool with Lauer in 2005), or is this just another example of the star's ego run amok?
Dan Blackwell