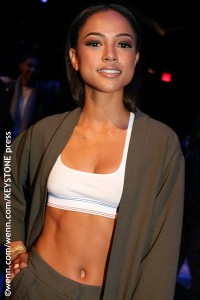 Karrueche Tran has finally had enough of Chris Brown's drama and has publicly bid him farewell via social media.
The 26-year-old model has been dating the singer off and on since 2010, shortly after Chris pleaded guilty to felony assault of former girlfriend, singer Rihanna.
The couple have been very outspoken with their relationship issues and have broken up several times. After the most recent breakup in December, Karrueche took to Instagram to write,"I refuse to be repeatedly mistreated especially by someone who claims to love me," she wrote. "That's not love. Yes, I have not been so smart before in the past but I made a promise to be a better and stronger woman and I'm keeping that promise. If you can't love me the right way, then don't love me at all. Don't be mad at me because I prefer to be happy."
Yesterday TMZ reported that Chris had fathered a nine-month-old  baby girl with 31-year-old model and nursing student Nia Gonzalez. Apparently this was the last straw for Karrueche, who tweeted yesterday that she'd had enough.
Listen. One can only take so much. The best of luck to Chris and his family. No baby drama for me. 👶

— Karrueche Tran (@karrueche) March 4, 2015
Chris has yet to deny or confirm the news of his alleged secret love child but Karrueche's tweet seemingly confirms it. ~Suzanne Coolen