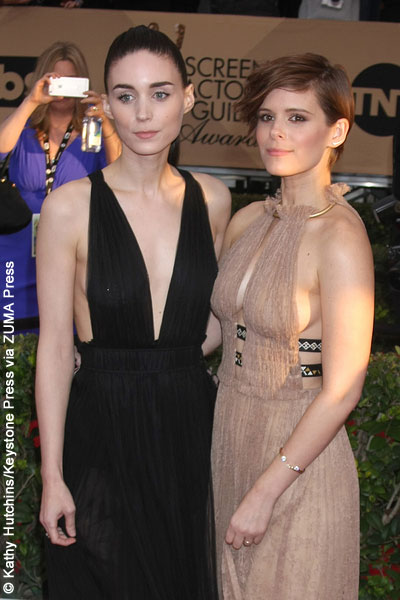 Apparently, acting isn't the only passion of Rooney and Kate Mara.
The sisters have written an open letter to the New York Blood Center after the organization withdrew its support of over 60 chimpanzees in Liberia. The actresses called the organization's termination of funds "abandonment" and asserted that as a result, the chimps have been left to survive on their own without food or water.
Addressed to the President and CEO of the organization, the sisters wrote, "As you are aware, when you withdrew all support for these chimpanzees one year ago, you left them in a life-threatening situation. If it had not been for the dedicated caretakers and emergency care from nonprofit organizations like The Humane Society of the United States and Humane Society International, these chimpanzees would surely have died horrible, slow and painful deaths from dehydration and starvation."
Recently, Rooney and Kate traveled to Liberia to visit the animals, which have defied expectations and survived with the help of devoted caretakers and organizations. However, ensuring their survival comes with a hefty price tag. Organizations are having to front a bill of $20,000 per month.
The actresses touched on the tenacity of the chimpanzees when they wrote, "Despite the physical and emotional trauma these animals have endured…they are doing amazingly well. The resilience of these animals is astonishing and humbling to say the least."
They continued to plead with the New York Blood Center: "It's never too late to choose compassion over indignity. We urge you to work with The Humane Society of the United States to determine a solution that would be beneficial for the chimpanzees and for the people of Liberia who depended on you."
Rooney and Kate hope their letter spurs swift action from the New York Blood Center, which supported the chimpanzees for over 30 years. The sisters said they hope the organization can "correct the wrongdoings of the past" and once again assist the animals.
Rooney recently received a Best Supporting Actress Oscar nomination for her powerful work in Carol. Her next project is Kubo and the Two Strings, an animated film due in August 2016 that she lent her voice to.
Older sister Kate, who's best known for her work in House of Cards, can be seen next in The Heyday of the Insensitive Bastards alongside James Franco, Kristen Wiig and Natalie Portman. ~Matthew Pariselli