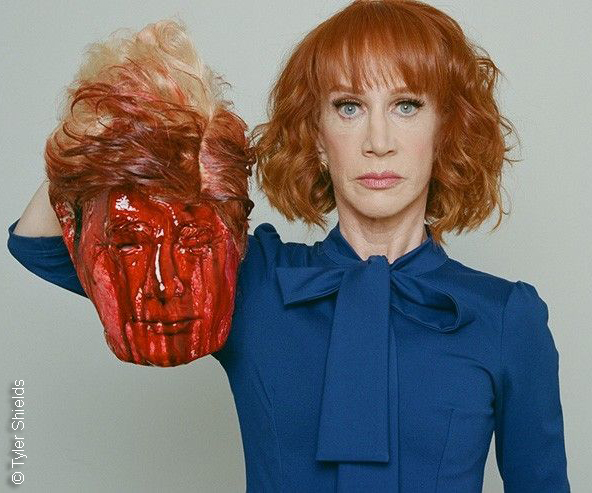 Kathy Griffin's recent photo shoot that showed her holding what appeared to be the severed and bloody head of President Donald Trump, has been met with much criticism.
Trump himself tweeted: "Kathy Griffin should be ashamed of herself. My children, especially my 11 year old son, Barron, are having a hard time with this. Sick!"
Meanwhile, Squatty Potty, which had recently hired the comedian to star in a new ad campaign for their company, released the following statement last night: "We were shocked and disappointed to learn about the image Ms. Griffin shared today, it was deeply inappropriate and runs contrary to the core values our company stands for. In response, Squatty Potty has suspended its ad campaign featuring Ms. Griffin. We have acted swiftly and decisively to demonstrate our commitment to a culture of decency, civility, and tolerance."
Griffin herself has apologized via Twitter, saying, "I am sorry. I went too far. I was wrong." The post is accompanied by a video in which she says she "crossed the line." She goes on to say she has asked photographer Tyler Shields to take down the image.
However, the controversial photographer has not apologized, tweeting only: "Can you go to jail for making an artistic statement??? Asking for a friend… @kathygriffin"
I am sorry. I went too far. I was wrong. pic.twitter.com/LBKvqf9xFB

— Kathy Griffin (@kathygriffin) May 30, 2017