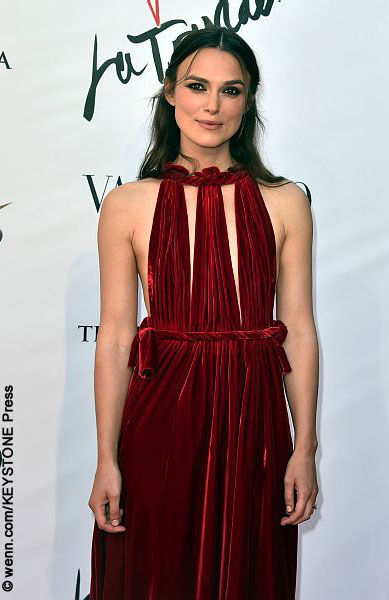 Keira Knightley, your backup has arrived.
Directors Mark Romanek (Never Let Me Go) and Lorene Scafaria (Seeking a Friend for the End of the World) came to the 31-year-old British actress's defense after she was slighted by John Carney, who helmed Begin Again. Keira played Gretta, a singer-songwriter, in the film.
While speaking with The Independent about his latest film Sing Street, John slammed Keira's acting abilities.
He said, "Keira's thing is to hide who you are and I don't think you can be an actor and do that."
He described her as "disenchanted" while filming Begin Again, adding, "I don't want to rubbish Keira, but you know it's hard being a film actor and it requires a certain level of honesty and self-analysis that I don't think she's ready for yet and I certainly don't think she was ready for on that film."
John praised Keira's costars, Adam Levine and Mark Ruffalo, but said that despite his best efforts to make the film flow, she "didn't quite come out as a guitar-playing singer-songwriter."
When asked to discuss what he learned from making the movie, he said he'll "never make a film with supermodels again."
The Oscar-nominated actress has yet to respond to John's criticisms, but Mark and Lorene quickly took to Twitter to counter his claims.
Check out their Tweets below and let us know what you think of John's harsh words! ~Matthew Pariselli
My experience with #keiraknightley was utterly spectacular on every level. I have no clue what this guy is talking about. #arrogantshithead

— mark romanek (@markromanek) May 30, 2016
.@Lieryn @markromanek I agree with Mark. Keira was a joy to work w/. Present & easy & really, really good at her job. Just lovely. — Lorene Scafaria (@LoreneScafaria) May 30, 2016