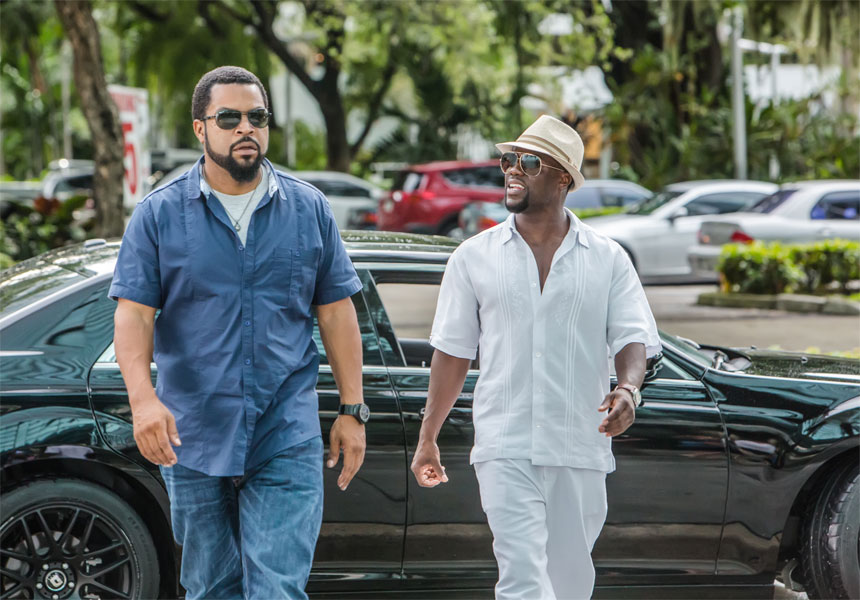 Comedic duo Ice Cube and Kevin Hart are back for the sequel in Ride Along 2. The scene opens with James Payton (Ice Cube) and his partner on a stakeout, preparing to take down a bad guy. But when a gun is pointed at the cops, recently graduated rookie cop Ben Barber (Kevin Hart) believes it's time for him to make his big move: riding in a car with the radio blaring to Iggy Izalea's Fancy.
After this short-lived stunt, all hell breaks loose between the cops and the bad guys, leading to James' partner being shot.
Now James has to travel to Miami to follow a lead and he is told he can take Ben, provided he takes complete responsibility for him. You see, Ben is about to tie the knot with James' sister Angela. Ben wants to prove his mettle as he aims to become a detective.
At first James declines to partner up with the all-talk accident-prone rookie, but when he realizes he could use this opportunity to show Ben how ill-suited he is for the job, they take a ride to Miami.
Chasing a hacker named A.J. (Ken Jeong) leads them to crime boss Antonio Pope (Benjamin Bratt), who has a way-too-clean slate thanks to his incredible wealth and power in the city.
With the help of detective Maya (Olivia Munn), James – and Ben, of course – attempt to gather evidence on Antonio by crashing his house party. Ben's loose talk and clumsy actions lands them in trouble most of – no, scratch that – all of the time. No questions there.
The slapstick comedy led by dynamic duo Kevin Hart and Ice Cube is a fun watch. Kevin's cheeky one-liners are ridiculous, but he manages to make you laugh anyhow. Ice Cube complements the duo and makes up for all of his partner's misgivings.
Ken Juong was a welcome addition to the comedy. Olivia Munn, albeit in a small role, did show us her funny side and I would have liked to see more of the women in the film don the comic cape.
Overall, the film takes you on another ride filled with Kevin Hart's hilarious – and sometimes senseless – dialogues. This one is entertaining enough for a night in with friends and gets my seal of approval.
Blu-ray features include Deleted Scenes, Gag Reel, Ride Along With Us, Kevin and Cube: Brothers-in-law, Inside Black Hammer Vision and more.