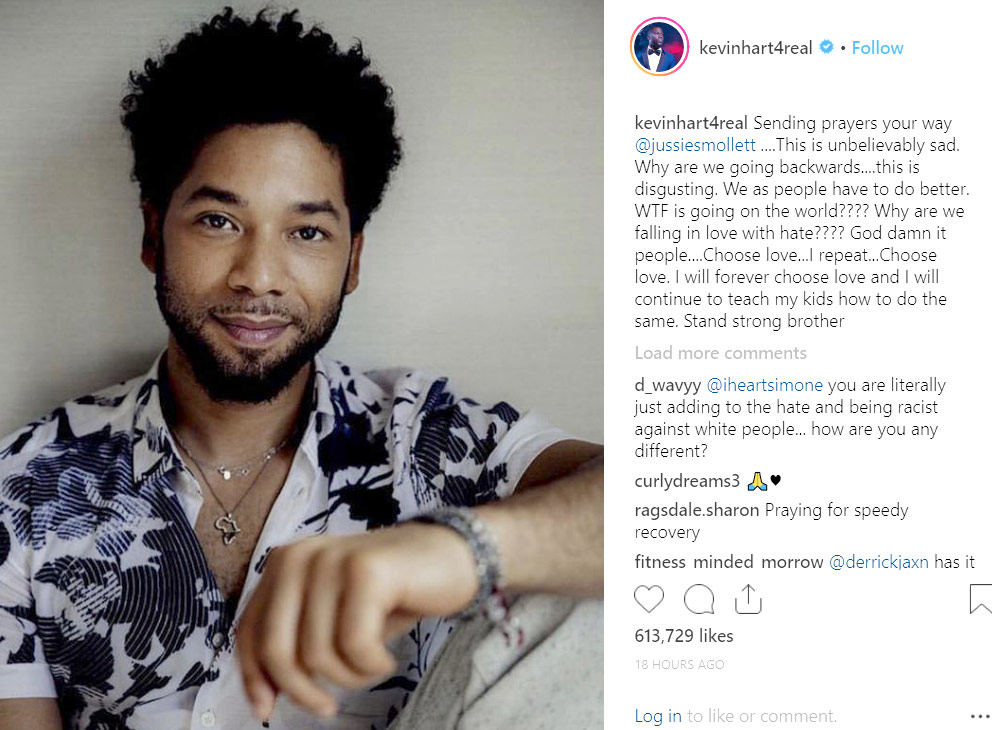 Kevin Hart, who quit as this year's Oscars host after a number of anti-gay tweets he made 10 years ago were made public, has spoken out in support of Jussie Smollett, the Empire star who was the victim of a possible hate crime earlier this week in Chicago.
Smollett was allegedly hit in the face and body by two white men who were yelling "racial and homophobic slurs." They put a rope around his neck and poured bleach on him. They also yelled "This is MAGA (Make America Great Again) country," Donald Trump's catchphrase.
California Sen. Kamala Harris tweeted: ".@JussieSmollett is one of the kindest, most gentle human beings I know. I'm praying for his quick recovery. This was an attempted modern day lynching. No one should have to fear for their life because of their sexuality or color of their skin. We must confront this hate."
Smollett, who plays Jamal, a successful gay singer on Fox's hit series Empire, like his character, identifies as gay. He checked himself into Northwestern Hospital and "is in good condition," according to authorities.
Chicago police are calling it a possible hate crime and plenty of celebrities have tweeted about it, expressing their outrage at the crime, including Kevin Hart.
Hart wrote on Instagram, "Sending prayers your way @jussiesmollett ….This is unbelievably sad. Why are we going backwards….this is disgusting. We as people have to do better."
However, Hart has faced criticism due to his post because of his earlier tweets.
This is why someone's jokes about beating their gay son were never funny

— Ira (@ira) January 29, 2019
But keep joking about beating up your kid for being gay, Kevin Hart!

— sam greisman (@SAMGREIS) January 29, 2019
Do you see why the "jokes" weren't funny now??

— Bethany West (@niale_west) January 30, 2019
The investigation is still ongoing, but according to the Chicago Police Department, a lack of video security footage is making it difficult to identify the perpetrators. ~Alexandra Heilbron