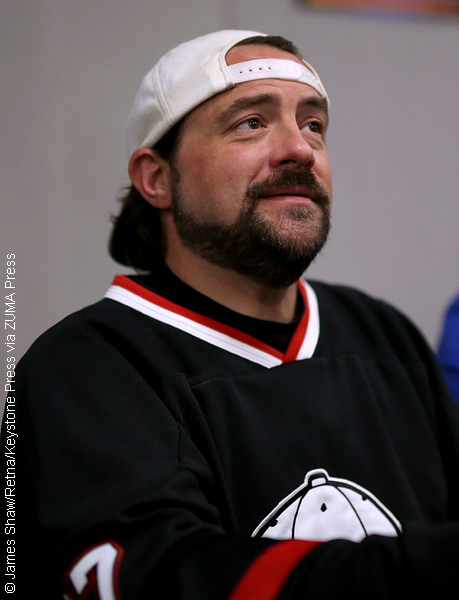 Not only those affected by the actions of Harvey Weinstein directly are feeling the impact of the situation. Filmmaker Kevin Smith is also struggling to move forward in regards to the accusations facing Weinstein.
On the latest edition of the weekly podcast he co-hosts with actor Ralph Garman, Hollywood Babble-On, Smith spoke about how his career is tied to Weinstein. Miramax distributed his first film, Clerks, and Smith has worked with both Miramax and The Weinstein Company on a number of films since.
"My entire career is tied up with the man, everything I did in the beginning has his name on it," Smith admitted.
During the podcast Smith talked extensively about how he is not a victim in this, but that throughout his career he sang Weinstein's praise, encouraging others to follow their dreams and make films, saying that Weinstein could help them get their projects distributed.
"I'm not looking for sympathy, I know it's not my fault, but I didn't f****** help," Smith said, audibly choked up.
Smith elaborated by saying he was trying to figure out a way to help, and after tweeting that he was ashamed, many encouraged him to give back all the money he made from working with Weinstein. He replied that he doesn't have the money from 20 years ago, but he does receive residuals from the movies he made, and will donate that money and more to the non-profit organization Women in Film.
"Any residuals I get from any Miramax or Weinstein title from hereon in goes f****** right to them, but even that didn't feel like enough," he began. "Let's be honest, at the end of the day after what he's done that catalog is probably going to be devalued."
"So it's not enough to say I'm going to give away my residuals, so what I'm going to do from now until the f****** day I die, I'm going to give two thousand bucks a month to Women in Film, and hopefully that goes to people that get to make s*** without having to deal with some f****** animal saying here's the price."
An emotional Smith broke down, saying, "I also want to offer, if they want, my help from mentorship and whatnot, I'm not sure why they would because I'm a man in film." Garman then took over until Smith could regain his composure and continue the podcast. ~ Hayley Michaud