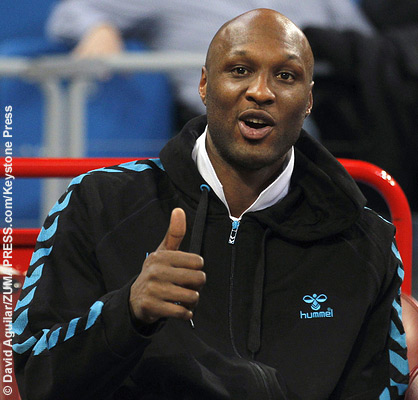 Lamar Odom, who was found unconscious by two women at the Love Ranch, a Nevada brothel, on Tuesday afternoon, has a 50/50 chance of surviving after a lethal drug overdose, according to a source to TMZ.
The former Los Angeles Laker basketball player was transported by ambulance to a Los Vegas hospital after he proved to be too tall to go by helicopter. The source – a witness at the hospital – revealed four of Lamar's organs, including his heart and kidneys, are failing and he has suffered four strokes since arriving.
Lamar had apparently been living at the brothel in a VIP suite that goes for $5,000 to $10,000 per night, depending on how many girls come with it.
According to brothel owner Dennis Hof, who claims to be a friend of Lamar's, his pal had been taking herbal Viagra and drinking cognac. However, hospital witnesses said Lamar had track marks on one of his arms and doctors have determined he also had cocaine and opiates in his blood, among other drugs.
His lungs were also full of fluid, which is believed to be the result of crack cocaine. He's currently on dialysis for kidney failure and is so far unconscious and unresponsive.
Lamar and Khloe separated two years ago due to his alleged substance abuse and rumors of infidelity. Khloe filed for divorce in December 2013, but because Lamar was uncooperative, they are still legally married, which means Khloe is legally able to make medical decisions on his behalf.
A source told Entertainment Tonight that Khloe has flown to be by his bedside at the hospital and is "beside herself."