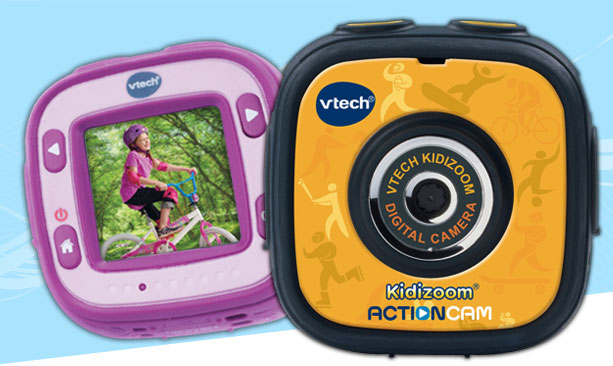 The Kidizoom Action Cam is for kids who love taking action photos and/or videos. This camera attaches to helmets, skateboards, bicycle handlebars, swings or it can be handheld. It comes with a fully waterproof case so you can take photos and video underwater while swimming. Think of it as a GoPro for kids.
I found this camera extremely easy to set up. It comes with an easy-to-read manual that shows you everything you need to know and tells you what the accessories are for. In addition to the waterproof case (which is really easy to load the camera into), there are two different mounts for bikes and/or scooters, a wrist strap, a lens case for attaching the camera onto the mounts and a micro USB cable for recharging the battery or for transferring your photos and video to a computer. The camera also has three built-in games (Surf Boarder, Mountain Bike and Crazy Captain), stop motion, time-lapse and multi-shot options.
Since it's made for kids, it's a sturdy little camera that will withstand being dropped or bumped.
When you turn the camera on, you can choose the Tools icon to change things like volume, brightness, time-lapse photo recording and self-timer, and in the Advanced Settings, you can see how much space you have left on your memory card and change the video resolution. The settings that come with the camera are 160 x 120 and 320 x 240. However, if you want to shoot in 640 x 480, which is a decent size for YouTube or Facebook, you can purchase a microSD or microSDHC card and that option then becomes available when the card is inserted.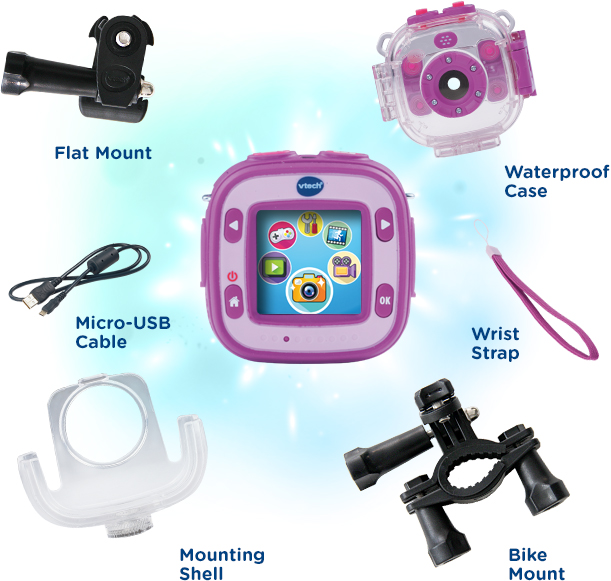 You can also play back what you've shot on the screen and delete photos or videos without attaching the camera to a computer. You have to press a couple of choices before the photo is deleted, so there's little danger of deleting a photo by accident.
I was impressed by the quality of the video, considering this is a very inexpensive camera ($69.99). I had a lot of fun with it, especially when I attached it to my helmet while horseback riding so I could film what it's like to canter and go over jumps on a horse. It's difficult (and dangerous) to do that while holding a camera with one hand. I've also seen friends use this type of a camera to record while they were ziplining.
All in all, this is a great starter camera for your little filmmaker or sports enthusiast who wants to replay what he or she did on a screen so their friends and family can see it. It's easy enough to use that the recommended age goes as low as four, though I think you may have to set it up for someone that young.
At about age eight and up, depending on how tech savvy your kid it, they should be able to work it all out for themselves. It's currently only available at Walmart but in August it can also be found at Toys "R" Us, Amazon.ca and Mastermind Toys.
However, we have one of these cameras to give away! If you'd like to win this amazing camera (and you are a Canadian resident), tell us below in the comments what you would most like to use it for. We'll pick a winner this Friday, June 12 at 5 p.m. and will announce the winner's name next week.
The winner is: Jacob-Emmanuel Doyle. Congratulations and thanks to all who entered!