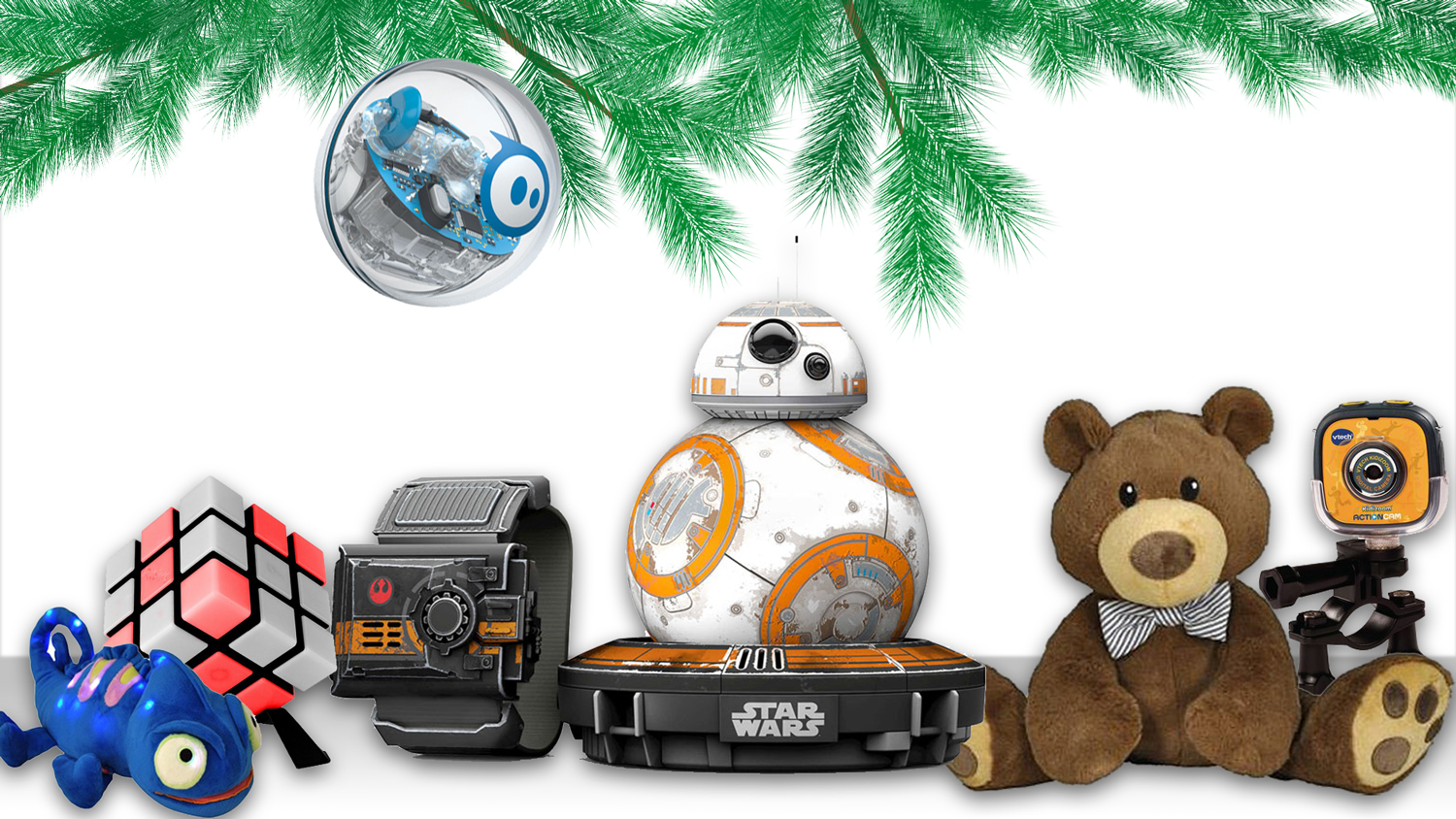 It's that time of year again — with Christmas approaching, it's time to start looking at those long lists your kids have written for Santa. We've taken a look at what's available this holiday season for kids of all ages, and the toys just get better each year. From annual favorites such as the Rubik's Cube to new and innovative toys that teach your children computer programming in a fun and entertaining way, there's something for everyone!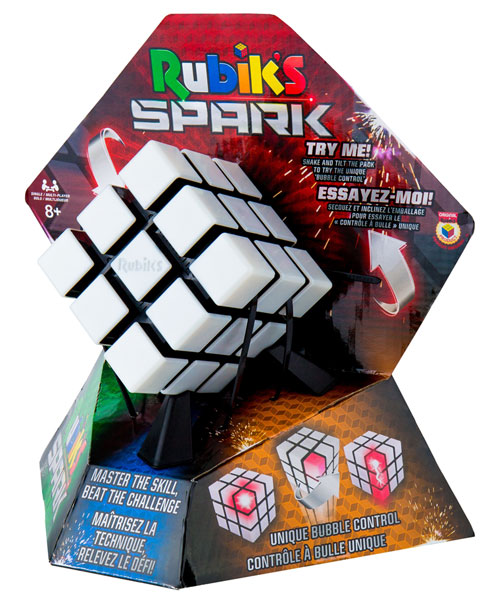 Rubik's Cube has been a favorite toy for years, but the company never stops finding inventive ways to update the cube. This year, there's a new design called Rubik's Spark. Larger than the original Rubik's Cube and designed for ages 6 to 11, Rubik's Spark has flashing cubes and is programmed with six skill challenging games that have different levels. We had our resident Rubik's Cube expert, Dexter, check it out and he gave it two thumbs up, saying it's not only great fun, but will help kids develop motor skills. It also makes a great party game for teens. Suggested Retail price: $29.99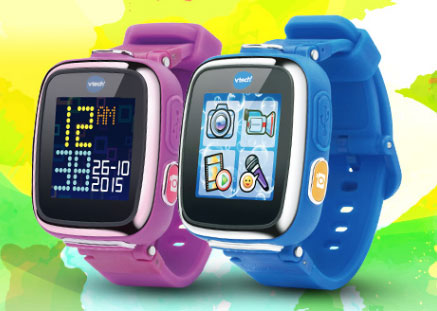 We tried out the Kidizoom Smart Watch DX from Vtech and we absolutely love this product. Last year we reviewed the Kidizoom Action Cam — a Go-Pro-type camera for kids — and this new product is just as cool. First off, it's a watch, with so many displays (both analog and digital) that we lost count. In addition, it's got a video cam, a camera, a voice recorder, video games, dance, run and jump rope games in which the character on the screen (you choose the character) follows your movement, a calculator, calendar, pedometer, alarm, stopwatch, timer, and the ability to download more content. You can also see your videos/photos on the watch or play them back on your computer. It comes with a micro USB cable for easy battery recharging. Recommended for kids 4+ but we had so much fun with it we think adults would also enjoy it.  Suggested Retail price: $69.99
As we mentioned, we reviewed VTech's Kidizoom Action Cam last year — click here to read the review. It's like a Go-Pro but much easier to use — you can view your photos and videos right away on the screen. It comes with two mounts so kids can attach it to their bike, skateboard, snowboard or more — we attached it to a horseback riding helmet! It also comes with a waterproof case so you can take videos and pictures underwater up to six feet. The Action Cam features a 1.4″ color LCD screen and can take videos and photos in addition to stop-motion videos and time-lapse photos. Children can explore their creativity with fun effects, frames and photo filters. Photos and videos can be downloaded to a computer using the micro USB cable so they can share them with family and friends. Not only that, three fun learning games are included for when the kids (or you) want some quiet time. Suggested Retail price: $69.99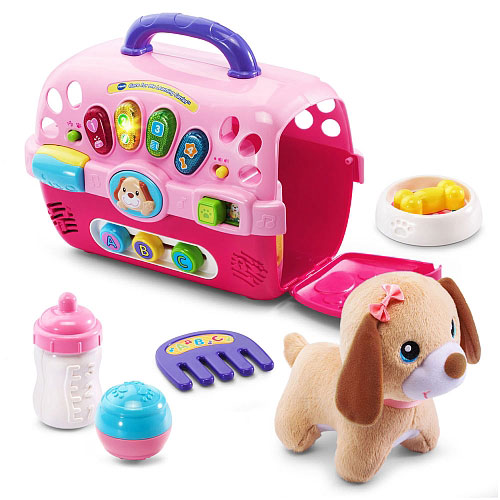 Do your kids love animals? Have they been begging you for a dog? Here's a fun solution. Care for Me Learning Carrier by VTech is an interactive pet carrier that comes with an adorable plush puppy! Put the toy puppy inside or take him out of the carrier and hear playful phrases when opening/closing the door. There's also an activity panel on the side of the carrier with light-up buttons to learn about colors, shapes, pet care and more. Sliding the letter beads introduce letters and play music. Sliding the window and spinning the roller add to the fun and encourage motor skills. The carrier includes four pet care accessories so toddlers can groom, feed and play with the cuddly puppy that they can take with them wherever they go. Suggested Retail price: $29.99
Storytime Huxley is not only adorable and oh-so-huggable, he's a plush interactive story bear who gives children the opportunity to incorporate storytime into any bedtime routine. Huxley comes with an illustrated 44-page storybook that gives kids the chance to read along with five classic stories including Beauty and the Beast, The Tortoise and the Hare, and more. Suggested Retail: $44.99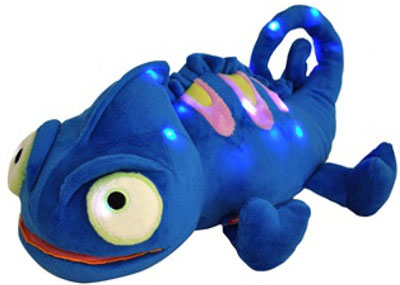 Charley the Chameleon is a soft blue plush toy for all ages. He has light up scales and soothing sounds, which will help your child get over his or her fear of the dark and make them feel safe. When you press his paw, he lights up one of three LED light options including amber, blue or green, and plays either a tune or soothing rainforest sounds. This plush pillow is perfect to snuggle with at night. Suggested Retail Price: $39.99
Playmobil has some fun new sets, including the Space Rocket with Launch Site and the Furnished Children's Hospital. The Space Rocket is mission-ready, complete with working lights and sounds. Inspect the rocket prior to launch with the movable maintenance platform, and make sure everything is in tip-top shape for the space mission with the help of the repair robot.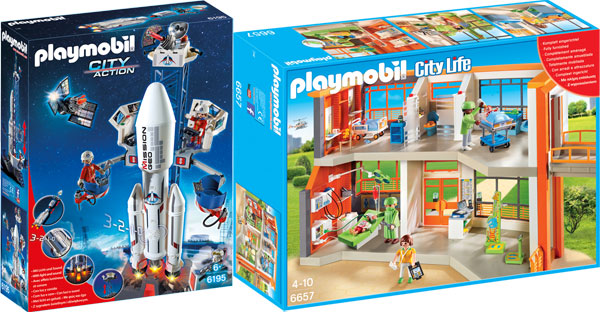 The Furnished Children's Hospital has a reception area, where you can take the patient's height and weight before taking them to the adjustable exam table with medical instruments or escorting them to the operating room. Take an elevator to the second floor, where you'll find the children's or baby room for recovery. The recommended age for both these toys is 4+. Space Rocket Suggested Retail Price: $79.99 Furnished Children's Hospital Suggested Retail Price: $122.99
Don't worry, we've haven't forgotten the older kids — Sphero's SPRK+ is perfect for them and believe us, their eyes will light up when they see this new toy! SPRK+ is far more than just a robot — it's their vehicle to discovery. Connect to the Lightning Lab app to learn programming and get inspired through connected play and coding. This app-enabled ball provides not just hours and hours of fun, it's just the start for your little genius to create, contribute and learn.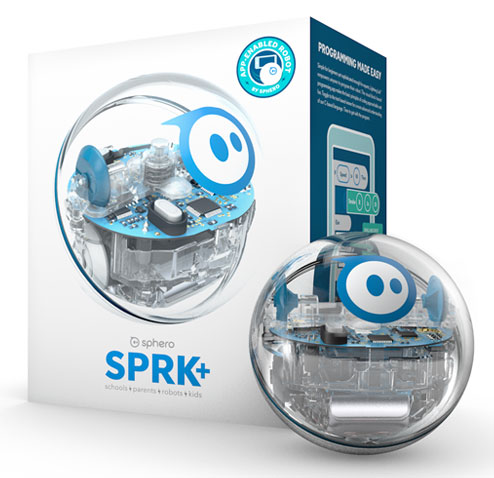 The visual block-based building interface makes learning the basic principles of programming approachable and fun. Browse through activities, keep track of a class, and collaborate with users around the world and share what they can do with tech savvy. Suggested Retail: $149.99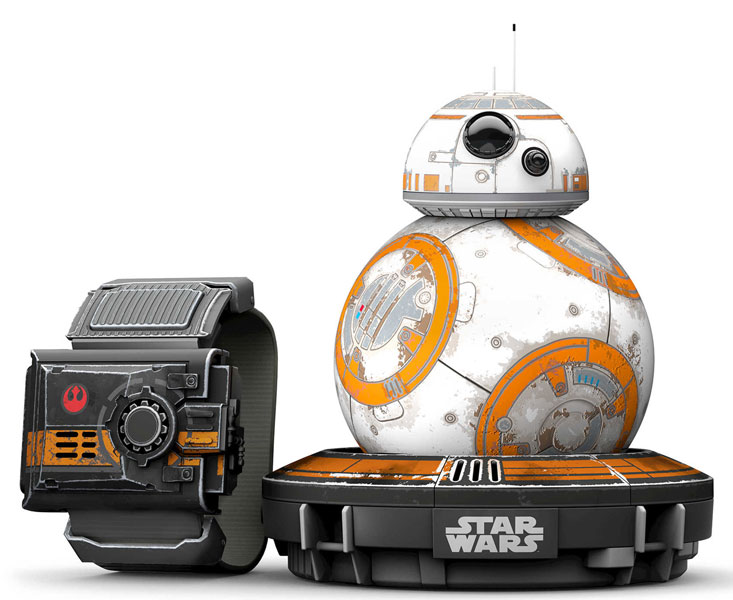 Also from Sphero is the toy we can safely say every Star Wars fan wants — young or old. The BB-8 App-Enabled Droid is the most adorable droid ever. It does so much that we can't possibly describe it all, but we'll give it a try! BB-8 has an adaptive personality that changes as you play. Based on your interactions, BB-8 will show a range of expressions and even perk up when you give voice commands. Set it to patrol and watch BB-8 explore on his own. Make up your own adventure and guide BB-8 yourself, or create and view holographic recordings — which is our favorite feature! New this year is a Star Wars Force Band, which allows you to push, pull and control your BB-8 with just a wave of your hand. Both are recommended for ages 8 and up. BB-8 App-Enabled Droid and Star Wars Force Band bundle Suggested Retail Price: $249.99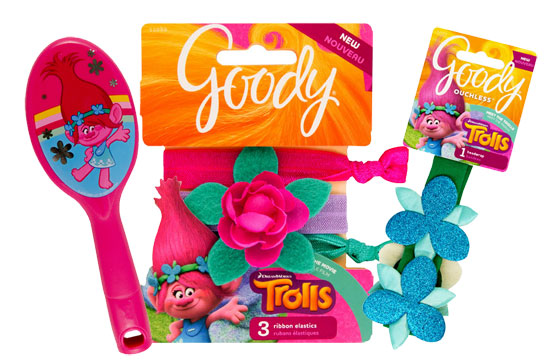 Trolls are back in style with their first full-length movie and Goody is helping kids of all ages "find their happy place" with a limited-edition line of hair brushes, colorful elastics and other hair accessories inspired by the gravity-defying hair styles of the movie's heroes and heroines. The soft and stretchy green Poppy Flower Sparkle Headwrap with glittery blue flowers lets you recreate the happy troll's iconic look. Suggested Retail Price: $5.99
The Trolls limited edition Goody Ouchless Girls Brush features funky Trolls-inspired patterns and is available in both Purse and Oval styles. Suggested Retail Price: $10.99/$13.99. Satin and Chenille, the style gurus of the Trolls world, would never be caught with a hair out of place. That's why the more fashion-forward kids on the playground will love the Trolls Hug Time Ribbon Elastics, with floral detail taken right from the movie screen. These can be used as either a glitzy accessory on their wrist or to style their hair in a ponytail. Suggested Retail Price: $5.99.
Make sure to check back on December 5th, when our annual 12 Days of Christmas Giveaway will begin — we'll have several of these toys, plus many more products, including a prize autographed by a celebrity, to give away to lucky readers!