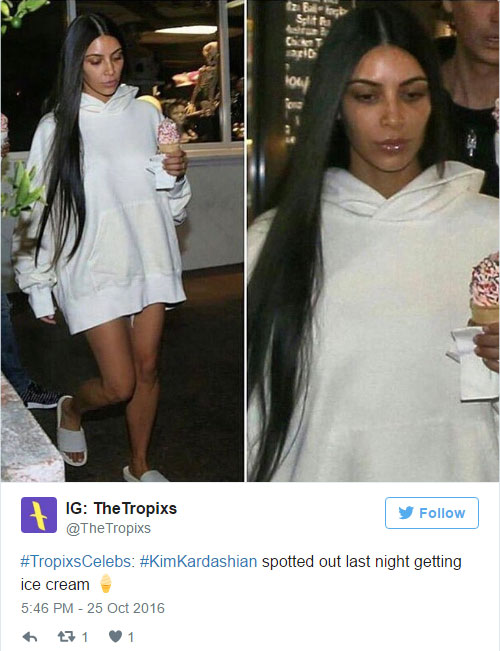 Kim Kardashian has begun filming her hit reality show Keeping Up with the Kardashians since stepping out of the spotlight after being tied up and robbed at gunpoint in Paris.
Just Jared reports that an E! spokesperson has confirmed this news, which is a development since the outlet previously reported that production on Kim's show had stalled as a result of the October 3rd Paris events.
In addition to returning to her show, Kim was spotted on Tuesday with her close friend Jonathan Cheban. The Stir reports that the pair was out grabbing ice cream at the Beverly Glen Deli.
An eyewitness stated that Kim was barely recognizable because of how skinny she appeared.
The eyewitness also said Kim wasn't wearing makeup or jewelry, seemed "very subdued," and kept to herself, remaining silent throughout the visit. She let Jonathan place her order and only spoke once, to request sprinkles as a topping for her ice cream.
E! Online reports another sighting as well. According to one of their stories, Kim was seen backstage at her husband Kanye West's Los Angeles concert on Tuesday night. She was in the company of mom Kris Jenner, sisters Kendall Jenner and Kourtney Kardashian, Jonathan, and several security officials.
Do you think Kim's recent appearances suggest that she's on the mend? Should we expect to see her bombarding social media channels again soon? Share your thoughts with us! ~Matthew Pariselli